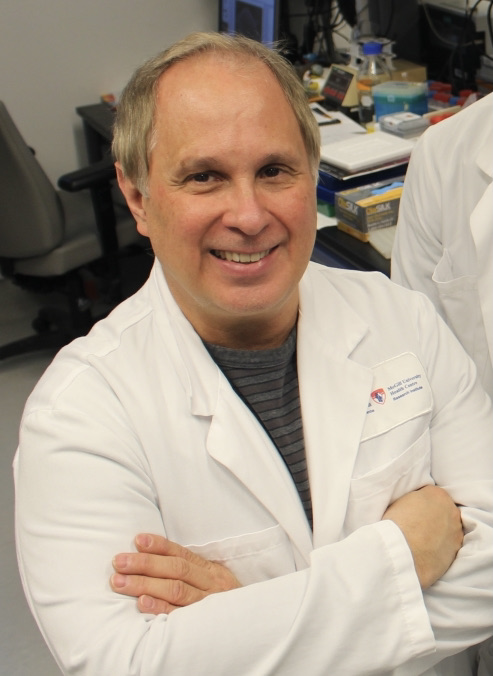 Martin Olivier, a professor of Medicine, and of Microbiology and Immunology, has been named winner of Canada's top academic prize in his field, the Bernhard Cinader Award. The Award is given annually by the Canadian Society for Immunology to a "Canadian scientist who exemplifies distinguished scientific leadership and accomplishments in immunology."
"I was thrilled [to win the Cinader Award] as it is an incredible recognition to get in the field of Immunology," said Olivier, who has been at McGill since 2002. "The previous McGillians who received it were André Veillette and Emil Skamene – two outstanding immunologists."
Olivier is internationally known for his seminal findings in host-pathogen interaction, pathogen evasion mechanisms, innate immune response, Exosome biology and insect vector nanobiome.
"My research focuses on insect-transmitted infectious agents, in particular parasites responsible for malaria, leishmaniasis and trypanosomiasis, but my interest is also toward bacterial and viral agents causing deadly and debilitating pathologies, such as Ebola, HIV, TB, Phleboviruses, Lyme disease," says Olivier.
"Findings stemming from my research could concur to develop vaccines, therapeutics and novel diagnostic tools."
Award-winning research
The impact of Olivier's research has been recognized with awards from the Burroughs Wellcome Fund, The Canadian Society for Immunology (CSI Investigator), the Canadian Society for Zoology Wardle Medal, and the Bose Institute Centenary Celebration Recognition award (Kolkotta, India) for his exceptional work in the field of immunology and parasitology.
Olivier's team at the Research Institute of the McGill University Health Centre is part of Infectious Diseases and Immunity in Global Health Program. He is the chair of the infection and immunity section of the MUHC FOCIS Centre of Excellence in Translational Immunology. He is a member of the McGill Research Centre on Complex Trait, the McGill International TB Centre, and the McGill Research Centre on Cannabis.
Lifelong curiosity 
Olivier says his lifelong interest in science is "innate."
"As a young boy, I was a collector of any animals and curious to learn everything about them," he says. "But the moment I became interested in parasitology was when I saw a caterpillar full of eggs laid by a parasitoid wasp. I was eight years old. Later on, I realized it was hyper-parasitism."