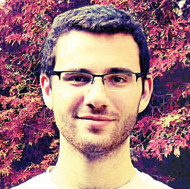 martin ahrens
::::::::::::::::::::::::::::::::::::::::::::::::::::::::::::::::::::::::::::::::::::::::::::::::::::
AGE: 21
HOMETOWN: MONTREAL, QUEBEC
MAJOR: MECHANICAL ENGINEERING
INTERNED AT: FPINNOVATIONS
FAVOURITE SCIENTIFIC CONCEPT: "I'D HAVE TO GO WITH GRAVITY OR RELATIVITY."
It's rewarding to see what you're doing being applied to something useful in the real world," says Martin Ahrens. The third-year mechanical engineering student spent his summer interning at FPInnovations, one of the world's largest private, not-for-profit R&D companies. FPInnovations is largely focused on sustainable forestry solutions, but also looks at other areas in need of sustainable, environmentally friendly practices — like the big transport trucks constantly criss-crossing Canada's highways.
While interning at the company's Pointe-Claire, Quebec headquarters, Ahrens worked in the PIT (Performance Innovation Transport) division. "I worked a lot with engines, aerodynamics and combustion processes," he says, "all of which is related to my field of study." His job was to examine how to improve fuel consumption in 18-wheelers and other large transportation vehicles.
It wasn't a theoretical exercise, either: When it came time to test the mettle of a fuel additive or resistance-reducing trailer skirt, Ahrens was right there as trucks roared through their paces on a test circuit.
"I was surprised to get to go to the tracks," says Ahrens, whose duties included recording meteorological conditions and vehicle data. "It was my first internship and I thought maybe it would be all grunt work, but it was exciting. My internship gave me a broader view of mechanical engineering and I got to work with people who are very committed to — and really enjoy — what they do."