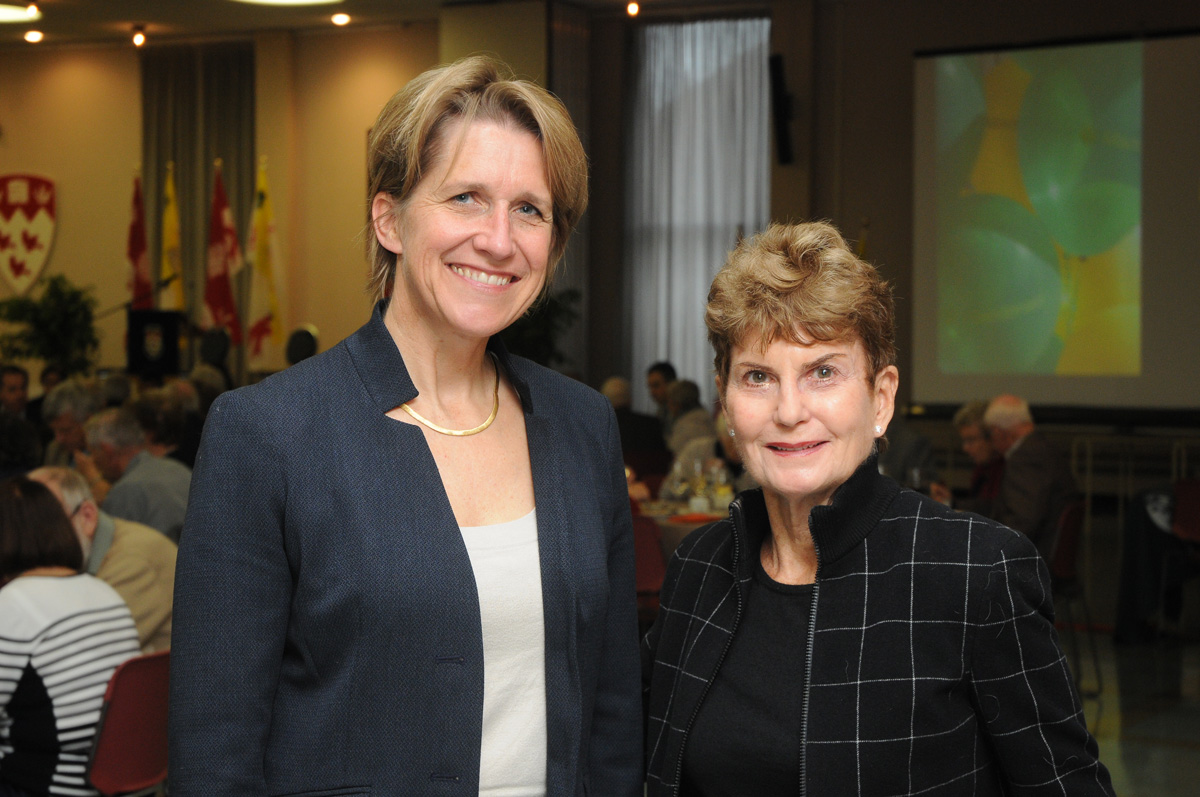 Like the threads of a disquieting tapestry, the causes of global hunger – the depletion of land and water resources, armed conflict, pollution, poverty and climate change – are complex and intertwined.
Food insecurity affects millions of people, from those living in urban slums and isolated communities in the developing world, to those in industrialized counties.
Now a landmark $5-million gift from New York businesswoman and graduate Margaret A. Gilliam, BSc'59, will bolster the efforts of researchers at McGill's Institute for Global Food Security to understand and address these challenges through teaching and research programs that investigate long-term solutions for sustainable food production.
This gift builds on a $1.5-million donation that Gilliam made to the Institute in 2012. It established the Margaret A. Gilliam Faculty Scholar in Global Food Security – currently held by Dr. Hugo Melgar-Quiñonez – as well as a named graduate fellowship award and lecture series. Her latest gift will allow the Institute to chart an even more ambitious course, as the newly renamed Margaret A. Gilliam Institute for Global Food Security.
"An incredible number of people all over the world are hungry, and I want to do something meaningful to help," says Gilliam. "It's important that we take concrete steps to ensure that everyone has secure access to sufficient, safe and nutritious food supplies."
Tackling global food issues
Established in 2010 and based at McGill's Faculty of Agricultural and Environmental Sciences, the Institute for Global Food Security is doing just that. Its researchers have developed precise methods to measure food insecurity, and through collaborative research projects around the globe, they are tackling issues ranging from the development of nutritious potato varieties in Colombia, to building capacity for sustainable livelihoods and health in Ghana.
In addition to creating an endowment to support the Institute's long-term growth and stability, Gilliam's gift will fund a Graduate Student Fund that will provide bursaries, internships, and field studies support to students. It will also fund a Consultancy Hub in Global Food Security that will allow the Institute to expand its outreach by developing and attracting working partnerships with other world-class institutions, and becoming an important participant in policy-making.
"I have always believed that people who are fortunate should participate in making our world a better place," says Gilliam, who has had a long and rewarding career as a New York-based financial analyst in the retail sector.
From sheep farm to Goldman Sachs
Gilliam has forged her own path to success. Born in Ottawa, she spent her formative years in various parts of Canada, including rural British Columbia, where her family operated a sheep farm.
When it came time to attend university, Gilliam had her sights set on McGill. She was fortunate to get encouragement and support from her grandmother, Cairine Reay MacKay Wilson, who was herself a trailblazer, as Canada's first female senator and later its first female delegate to the United Nations General Assembly.
"My grandmother was a very astute and determined person. I really looked up to her," says Gilliam.
While at McGill, Gilliam studied Science and had plans to attend medical school. But her uncle – a pediatrician – dashed those dreams: "He was adamant that women should not be doctors and discouraged me from studying medicine. So I decided I'd better find something else to do."
After taking a course in money and banking, she knew what that was. She applied – and gained acceptance to – the Harvard-Radcliffe Program in Business Administration. Upon earning her business degree, Gilliam landed a position working as an analyst at Goldman Sachs – one of only a few women working on Wall Street at the time.
"Back in the 1970s it was a tough field for women, and I quickly learned that I would have to raise my voice if I wanted to move ahead at the same speed as my male colleagues," she says.
Scattering seeds of support
Gilliam became fascinated with the retail industry. Over the course of her 30-year career she honed her skills as a global retail analyst and became a trusted advisor to such Fortune 500 companies as Walmart, Home Depot, Nordstrom and Costco. More recently, she has become a sought-after retail consultant and publisher of the Gilliam Viewpoint – covering developments in the retail industry.
One person who made a tremendous impression on Gilliam was Sam Walton, the founder of Walmart. "I came to know Sam very well, and was inspired by the support that he and his wife Helen showed for social and environmental projects through their family foundation. Helen had a favourite saying: 'It is not what you gather in life, but what you scatter in life that reflects the kind of life you have led.'"
By scattering her support to ongoing research and outreach at the Institute that now bears her name, Gilliam is helping to ensure that her alma mater plays an even larger role in the global battle against hunger.