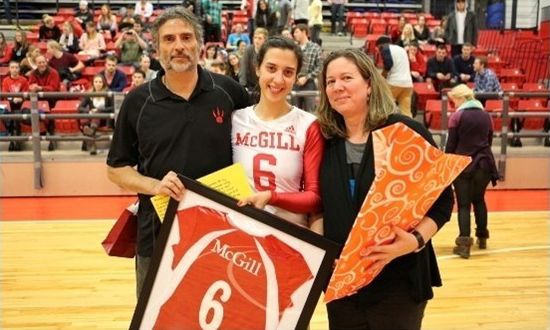 By Earl Zukerman
Marcela Mansure, a native of Rio de Janiero, has been named most valuable player of the McGill University women's volleyball team.
Other major awards, announced by head coach Rachele Beliveau, went to Ashley Norfleet (rookie of the year) of Brossard, Que., Alexandra Kobza (most improved player) of North Vancouver, B.C., and Rebecca Canam (most sportsmanlike player) of Yellowknife, NWT.
Mansure, a 5-foot-7 setter, has made the all-conference second team for the fourth straight season. A 25-year-old senior who is completing a master's degree in occupational therapy, she led the league with 601 assists in 70 sets and ranked second with an average of 8.59 per game. She also added 106 digs, 30 kills and 11 aces.
Norfleet, a 5-foot-11 power-hitter, earned CIS all-rookie honours as one of the top first-year players in the nation. The 20-year-old education freshman from Brossard, Que., earned a starting spot right from the beginning of the season and played all 20 regular season contests and 72 sets. She ranked second on the team and ninth among league leaders in stuff blocks, averaging 0.53 per set. She was also second on the team in points (2.33 avg.), third in kills (1.90 avg.), and seventh in digs (0.79 avg.).
Kobza is a 19-year-old science freshman majoring in anatomy and cellular biology. A libero who stands 5-foot-8, she came off the bench to see action in 60 of the team's 72 sets, registering 102 digs, nine assists, one kill and an ace.
Canam, a 22-year-old physiology senior, was one of the team's most consistent defensive players off the bench. A 5-foot-11 forward who plays the right side, she had 57 digs, five aces and one assist in 42 sets.