A shocking statistic: nearly one in three women in the world will be victim to sexual violence in their lives. On June 6, the McClure Gallery of the Visual Arts Centre (VAC) in Montreal opened the show In/Visible: Body as Reflective Site, to engage audiences with a meaningful conversation on this topic.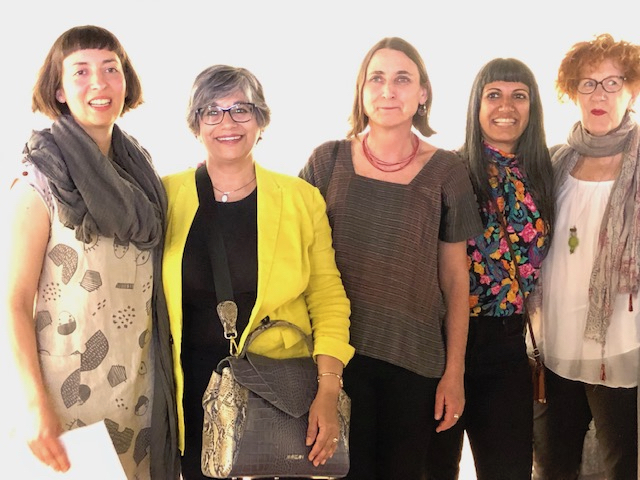 The show, which features works by six artists – Hannah Claus, Dayna Danger, Maria Ezcurra, Sandeep Johal, Kama La Mackerel and Nadia Myre – is presented with the support of McGill University's SSHRC Partnership Project, IMPACTS: Collaborations to Address Sexual Violence on Campus (IMPACTS),  a seven-year, $6.2 million multidisciplinary research endeavour led by the Faculty of Education Professor Shaheen Shariff. 
Each of the six artists featured in the show addresses important issues related to sexual violence in their diverse, thought-provoking and contemporary art works. 
Of the show, co-curators Lori Beavis, Maria Ezcurra, and Natasha Reid write, "The primary question guiding In/Visible: Body as Reflective Site is: How can the body be artistically employed and experienced to understand, expose, challenge and disrupt sexual violence?"
The artists attempt to answer in six distinct ways; the binding element, their disruptive approach.  "The issues that these artists address through these artworks are not easy," write the curators, "they are meant to disrupt, provide discomfort, and provoke … at the same time, the exhibition offers a safe space to unravel, share, dialogue, and activate."  
The Reporter sat down with IMPACTS' Principal Investigator, Shaheen Shariff, to discuss the show's ethos in more detail and how researchers and artists work together.     
What is rape culture, and how can the arts address this issue? 
Although the term is controversial, many feminist scholars recognize rape culture as the way in which sexist societal attitudes and language tacitly condone, minimize or normalize sexual violence, mostly against women, but also against other genders through institutions, communities and individuals.
The In/Visible show represents one aspect of the arts-based approach to this issue. Co-curator Marie Ezcurra is a resident artist in the Faculty of Education and a collaborator, and she worked together with the curators to recruit the participating artists in the show, including a fellow former resident artist in the Faculty of Education, Kama La Mackerel.
Together, these artists have brought different perspectives to the show, across cultures and gender identities. I wanted to have art as an aspect of this research project because I too am an artist. With respect to my own career, I thought I would be either an artist or a lawyer. I have brought both of these perspectives to research in education.
This show represents one aspect of the arts-based approach we are taking to address the research questions. We are also developing projects in theatre, with Studio 58 in Vancouver, and in music with collaborators at Concordia. Survivors don't come forward easily to report and disclose sexual violence. Art is one way to enable survivors and anyone who has a stake in the forms of discrimination that intersect sexual violence to have a dialogue. 
In/Visible, the show, is described as a safe dialogic space. How do you describe this type of space?
At the In/Visible opening, people felt very supported. One of the artists, Kama La Mackerel, gave a powerful performance detailing their personal experience of gender discrimination and violence. We have held two panels over the course of the show to provide more opportunities for dialogue and discussion on this important topic. This show come to fruition at a time when there is so much racism, sexism and mysogynity that is emerging globally, and In/Visible represents an opportunity to provide a space to have a dialogue about these issues. Even if you are not reaching masses of people, the space is just right for discussion and for reflection.  
What is the role of the University in making spaces safer, for survivors and for all its members?
Based on all my scholarship on bullying, cyberbullying and now sexual violence I'm of the view that the role of the University is to educate society. We must find ways as scholars and teachers to connect scholarship to the broader community.
So, this is the reason I approached galleries, theatres and media companies to work with us on the IMPACTS project. These partners learn with us through engagement with the University and we learn from them. I am always advocating for arts education, in any curricula.
Universities have rightly developed policies to combat sexual violence, and McGill has done a lot of good work in this area, but we must also continue to focus on connecting with people. The ownership and engagement of the students on the IMPACTS project has been phenomenal, and they demonstrate to me that we are making a difference with our work. 
In/Visible runs through June 29 at the McClure Gallery of the Visual Arts Centre (350 Victoria Avenue)