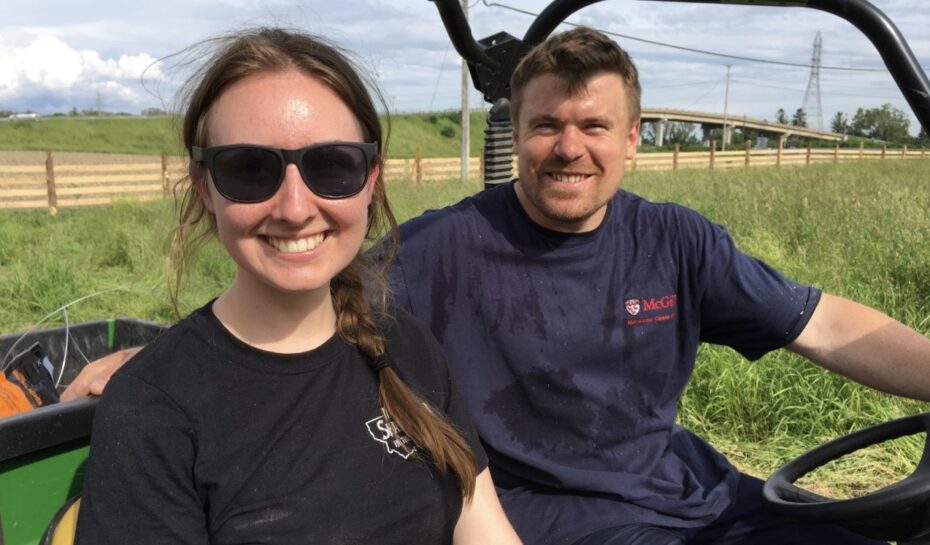 Nearly forty kilometres or a shuttle ride away from Downtown Montreal lies McGill's abundant and innovative Macdonald Campus Farm. Despite the farm remaining hidden away from the day-to-day lives of several McGill community members, particularly those studying and working at the Downtown Campus, these pastures serve as both a sustainable natural environment for several species and an enriching educational demonstration site.
Since 2019, McGill's Sustainability Projects Fund (SPF) has helped to fund the Macdonald Campus Farm's Dairy Cow Pasture Project. With a two-fold mandate, the project focuses both on the environmental sustainability of pasture operations and on educating individuals through integration with course curricula and public visits.
Best Management Practices
Led by Paul Meldrum and Maxime Leduc, the project is run by a team of dedicated McGill students and staff who help to maintain the operations of the farm's new and efficient pasturing methods.
Using Best Management Practices (BMP) to tend pastures, implement animal-friendly fencing, and optimize water usage, the project's rotational grazing systems help make the Macdonald dairy herd more sustainable overall.
"This system of pasturing uses the cattle to manage grass growth, and in return, the cattle get highly nutritious grass at the peak of quality while spending the spring, summer and fall outside in a natural environment," says Meldrum.
Through its knowledge transfer strategy, the project also serves as an educational opportunity for numerous McGill students, dairy producers, and other visitors who are interested in learning about both the new rotational grazing systems and campus farm operations as a whole. Paired with McGill's course offerings in Animal and Plant Science, Farm Management and Technology, and Natural Resource Science, the project equips students and local communities with the tools and knowledge needed to continually work towards a future with more sustainable farm practices.
Tess Ryder, in the third year of her Bachelor's degree in Agricultural and Environmental Sciences, is one of these students and has been assisting with several facets of the pasture project including landscaping and grazing management.
"It helped me develop a more well-rounded skillset, which was satisfying," says Ryder. "Watching happy cattle out in their pasture is really fun and rewarding and I'm glad people can experience that at Mac Farm."
Since its inception, the project has planted approximately 500 trees and shrubs and even held a field day in September 2019 with over 200 students, farmers, and agronomy professionals in attendance.
Award-winning efforts
The project team has also recently been recognized at the 2020 Catalyst Awards, as the winner of the Sustainability in Operations Award. Given to a team which encompasses activities that support the ongoing function of the University, the award recognized the Dairy Cow Pasture Project's commitment to helping McGill reach its long-term sustainability target of carbon neutrality by 2040.
On top of its already numerous sustainable successes, the Dairy Cow Pasture Project is looking to further the unique progress it has contributed to the sustainability movement at McGill. As of March 2020, the project has entered a second phase of SPF funding which has already planted 1,200 additional trees and shrubs, created grass buffer zones to prevent erosion, and installed a portable irrigation system.
"It is extremely rewarding for me to work with such dedicated students and colleagues, and to know that what we have started will provide benefits to the Farm, the environment and the McGill community for many years to come," says Meldrum.