Although it may seem obvious that teaching and learning are at the core of the McGill experience, it's worth noting that these activities aren't strictly happening in classrooms and labs, nor are they reserved for faculty and students. Rather, McGill staff can also be counted among this group of teachers and learners, many of whom have spent their careers acquiring knowledge, honing skills, and eventually imparting what they've learned on to those who will succeed them.
One such example can be found happening at the Macdonald Campus Farm, as veteran Plant Technician Michael Bleho prepares to take his leave after nearly four decades of dedicated service to the Horticultural Research Centre, home to orchards, vegetable research plots and specialized field equipment used for research and teaching activities. Bleho has spent much of that time at the helm of the Centre's educational program, in which students gain valuable experience in the production, management and marketing of horticultural crops that propel many on to successful careers in the field.
'I never left'
Bleho, who completed his Diploma in Agriculture at McGill in 1981, was initially drawn to the 'Hort' Centre by a stage opportunity and found himself working under the mentorship of then Senior Technician in Horticultural Services Jean-Pierre Laplaine, who managed the Hort Centre for 30 years. And although Bleho left shortly thereafter to pursue a different job, he couldn't shake his passion for the Macdonald Farm and returned in the fall of 1984.
"I wasn't happy where I was, so I decided I would reach out to J-P to see if he needed any help with the apple harvest. For the first five years I worked as a casual employee, doing whatever he needed me to do: working in the apple trees, working in the vegetable trials," Bleho explains. And that hard work proved fruitful when he transitioned to full-time in 1989. "Essentially, I never left!"
Working under Laplaine was both educational and inspiring, and helped shape Bleho's own vision and approach to the farm. "I learned so much from J-P," he says. "He was a kind person with such a strong work ethic. He also just saw the best in people and was always willing to give people a chance to prove themselves, particularly students. He understood that, for many of them, it's the first chance they've ever had to work at something and that, with patience, everybody learns."
Championing sustainability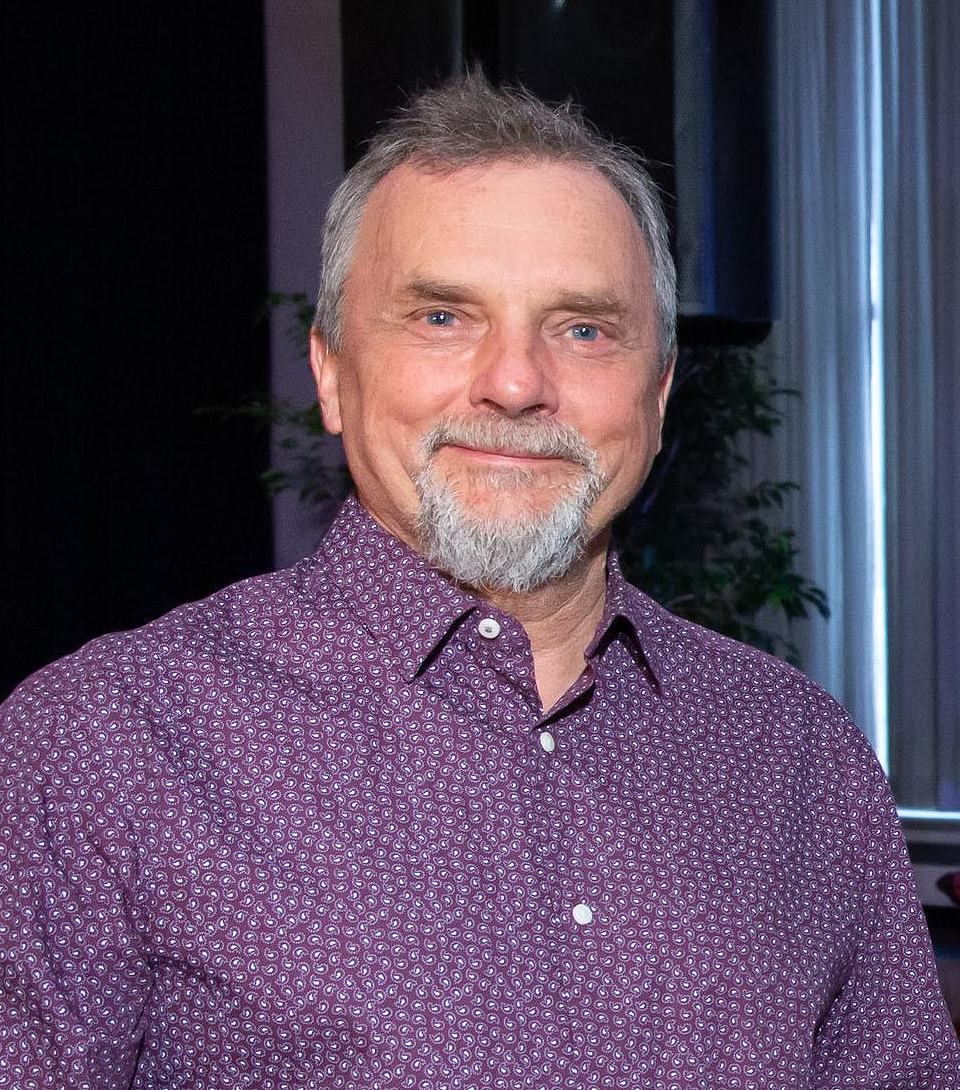 A recipient of the Macdonald Campus Award for Administrative and Support Staff for his significant contributions to campus life, it's worth noting that Bleho's impact extends far beyond the perimeter of the West Island Campus. Over the course of his career, he has played an instrumental role in establishing some of McGill's most successful and long-standing projects, most notably McGill Feeding McGill.
Alongside Chef Oliver de Volpi, Bleho spearheaded the Sustainability Project Fund's (SPF) McGill Feeding McGill project in 2010 – an initiative that saw the Macdonald Campus Horticultural Research Centre supplying more than 40,000 kg of fresh produce to McGill's Student Housing and Hospitality Services.
That project spawned a second sustainable idea: to install a field high tunnel and a greenhouse to extend the production season of pesticide-free crops.
"Peak demand for fresh vegetables in McGill's cafeterias is from September to April, while classes are in session, but the weather is cooler and crop yields decline," Bleho says. "The project proposed building two new structures at the Horticultural Research Center to improve our food production capacity: a 'high tunnel' to extend the growing season and low-input greenhouse to enable us to grow crops from October to December and again early in the spring under heated conditions."
Bleho, with the help of a team of students, was also the driving force behind the establishment of a new orchard at Macdonald Farm to replace the aging orchards planted from 1984 to 1987. He taught students how to graft, grow and transplant the 2,500 trees, which included new varieties such as Honeycrisp, William's Pride and Ambrosia.
In recognition of his significant contributions to the reduction of McGill's carbon footprint throughout his career, Bleho was honoured with the SPF's Distinguished Contribution Catalyst Award in 2020.
A lasting legacy
In Spring 2022, Bleho will hand the reins of the Hort Centre to Macdonald Campus graduate and long-time Hort Centre colleague, Laura Caralampides, BSc(AgEnvSc)'09, M.Sc.'12.
When Bleho recounts his first meeting with Caralampides, Chief Horticulture Technician, in 2007, he smiles. "It was March, and here I am sitting at the top of an apple tree when I see this figure walking towards me in the orchard. Suddenly a voice says, 'Are you Mister Bleho? I'm Laura and I was wondering if you're hiring any people to work on the farm.'"
In an age of digital applications and emailed resumés, Bleho admired the gumption of the girl who walked right up and asked for a job. "So, I said 'okay'," and the rest is history.
Caralampides went on to work at Mac Market – an extension of the Hort Centre that sells fresh produce to community members –while completing her studies at McGill. She proved herself to be a quick learner and always up for a challenge, says Bleho. "She was the type of person that could just take on whatever job we had to do."
Having worked alongside her for many years, watching her learn and grow, Bleho is confident that Caralampides is the right person to succeed him. "Not only is she skilled at farming but she's got the right character to connect with and motivate the different personalities that make up the Hort Centre," he explains. "She's a super nice person and gets along great with people."
Person-to-person connection
Caralampides, too, remembers that cold day in March when she first met Mike in the orchard. She was nervous but determined to find herself a job on the farm that she'd heard such wonderful things about. "My parents told me it was important that I speak to someone in person and not just send an email," she says with a laugh, "and they were right."
Caralampides, who grew up in Ile-Perrot, caught the farming bug in her early teens. One summer, with a desire to find part-time work in an outdoor environment, she applied for a job at nearby Quinn Farm on a whim. She quickly became a knowledge sponge, fascinated with the seasonal crops, who jumped at every opportunity to learn new skills. "Everyone was so impressed that this little 5-foot-3 girl could do it all," she recalls with a smile, "I loved everything about it."
That summer job turned out to be the catalyst for a life and career devoted to agriculture, inspiring her to pursue an undergraduate and eventually a master's degree in Plant Science at McGill while working part-time at the Hort Centre throughout her studies.
Upon graduating, Caralampides moved on to a job selling crop seeds, but just like Bleho before her, her heart never truly left Macdonald Campus. "I always knew that I wanted to go back, and the moment an opportunity arose for me to work full-time at the Hort Centre, I applied." After ten years away, she seamlessly slipped into the role of Chief Horticulture Technician in 2021, thrilled to find herself back at the Hort Centre – her second home – once again working alongside her friend and mentor, Bleho.
"Mike is an amazing teacher. He's like my horticulture, agriculture father – I've learned everything I know from him," she says with visible emotion. "Under his leadership, the Hort Centre has been like a family. We're a diverse group of people but Mike's outlook has always been that we each bring something unique and valuable to the table and make each other better by learning from one another."
And those principles of reciprocity and open-mindedness are just some of the values that Caralampides intends to carry on in her own right as she transitions into her new role.