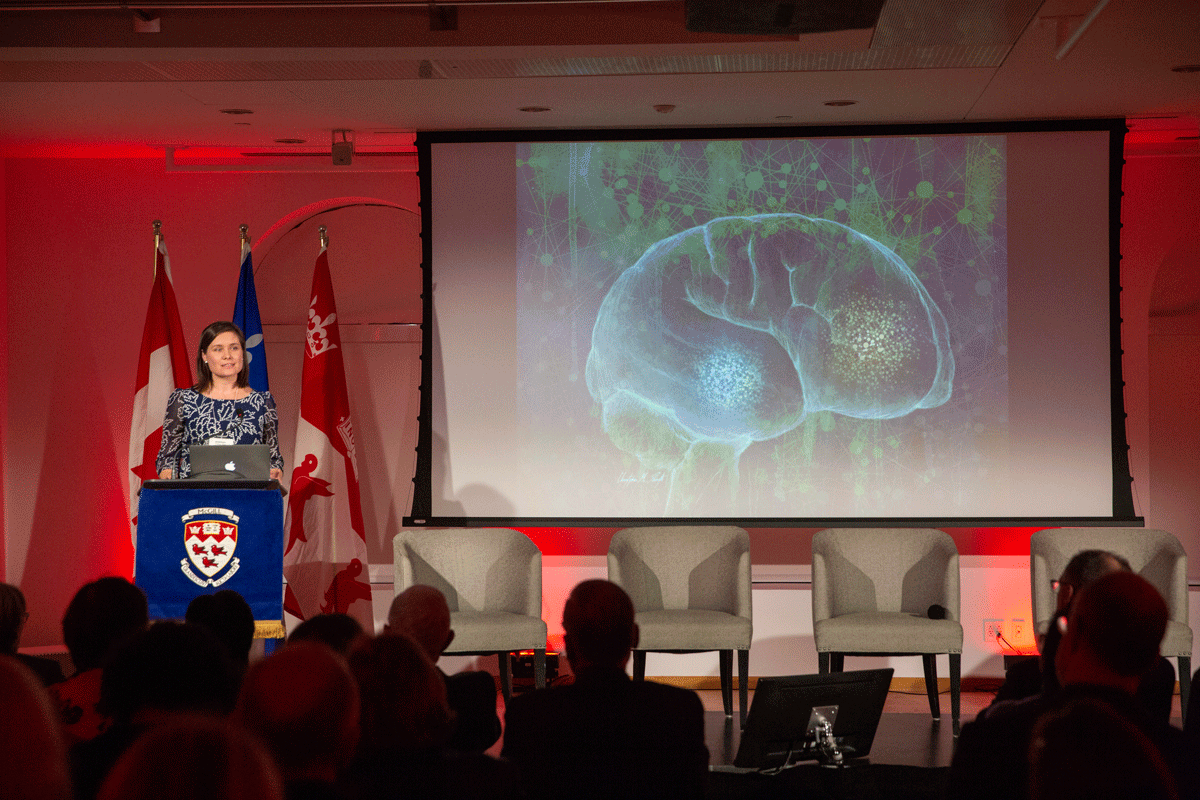 McGill scientists challenged themselves to relay their brain research in a concise and approachable way to an audience of about 200 who gathered at Montreal's Phi Centre on November 13 to celebrate the latest $10-million gift from the Irving Ludmer Family Foundation to the Ludmer Centre for Neuroinformatics and Mental Health.
The two-part event – Can big data help explain how our brains work? – began with a mini science fair featuring seven of the Centre's researchers, followed by five more brain researchers delivering five-minute TED talk-style presentations and taking part in a panel discussion.
Founded in 2013, the Ludmer Centre is a collaboration between the Douglas Mental Health University Institute Research Centre, the Jewish General Hospital's Lady Davis Institute for Medical Research, and the Montreal Neurological Institute and Hospital (The Neuro). Its researchers are taking a big-data approach to understanding, treating and preventing mental illness and neurological disorders.
Science fair expo
For the science fair portion of the evening, guests could interact with researchers, who each stood beside posters with a prompt of their choosing on topics ranging from mapping the brain to treatments for Alzheimer's disease.
"Ask me how cancer and brain development are linked," read the poster beside Claudia Kleinman, Assistant Professor in the Department of Human Genetics. She explained that as the human embryo develops, cells have to multiply to increase the size of the brain, then migrate, stop and specialize. With many childhood cancers, some cells get stuck in this multiplying stage, proliferating and causing tumours.
"Now that we're understanding this, we need to identify these cells so we can do experiments," said Kleinman.
At the other end of the room, Tristan Glatard, Adjunct Professor at the School of Computer Science, stood next to a poster that read, "Ask me why it's so important to be able to get the same results every time we analyze brain images."
His research addresses the concern that results might not be reproducible across different conditions, a big issue in science. He focuses specifically on reproducibility across computing platforms. "Computers are always changing – with upgrades – and sometimes these upgrades are not as innocent as they look," explained Glatard.
He appreciated the chance to talk with lay people about his work: "It's not that frequent that you get to discuss your work with non-scientists. I find it exciting. People might ask a simple question, but when you really think about it, it can lead to deep ideas."
Five researchers, five-minute presentations
For the more formal part of the evening, three young investigators and two co-directors from the Ludmer Centre took the stage to deliver five-minute presentations on an aspect of their research.
Rosemary Bagot, William Dawson Scholar and Assistant Professor of Psychology, explained that her research team studies the role of stress in depression. "Large datasets collected from animals help us identify patterns in how stress is affecting the brain," she said. Because not everyone reacts to stress in the same way, they also study the brains of resilient mice to find out what protects them from the effects of stress.
Also working in the realm of mental health, Kieran O'Donnell, Assistant Professor in Epigenetics and Epidemiology in Psychiatry, explained that one in five women experience a perinatal mental health problem, most commonly anxiety or depression. He and his team look at both maternal mental health and how it affects offspring. "We're trying to understand why some children are affected and others are not," said O'Donnell.
Shifting to the topic of intelligence, Sherif Karama, Assistant Professor of Clinical Psychiatry, explained that data tells us that brain volume, cortical thickness and quality of white matter all predict IQ. That means scientists are closer to being able to estimate IQ based on a brain scan, which Karama admitted, "scares me too." While IQ can be stable, it can also change. As one example, schoolchildren in special programs have shown increased IQ.
Through education and training focused on big data, Celia Greenwood, Professor in the Gerald Bronfman Department of Oncology and Co-director of the Ludmer Centre, wants to "transform the data deluge into a manageable information flow." One way she's doing that is by developing the researchers of the future: training mathematicians and statisticians in the life sciences or neurosciences as necessary, and also helping researchers in neurosciences or life sciences improve their data skills.
The final presenter, Alan Evans, James McGill Professor in Neurology and Neurosurgery and Co-director of the Ludmer Centre, explained that increasingly science is thinking of brain disorders as distributed entities or a consequence of wiring or connectivity disorders, rather than as focal disorders like a stroke or a tumour. This involves thinking of the brain as a "connectome," a model that focuses on the connections between each neuron. "This characterization of the brain as a connectome revolutionizes how we think about it," said Evans.
New student award
The evening concluded with Dean of Medicine and Vice-Principal (Health Affairs) David Eidelman announcing the launch of the Ludmer Centre Student Award for Transdisciplinary Brain Research.
The award will provide funding for a top-level Ludmer student-researcher to attend specialized courses, to visit a lab in order to acquire new skillsets, to expand their research, or attend a conference to gain new perspectives in research. Learn more about supporting the next generation of neuroscientists at www.mcgill.ca/seedsofchange/project/ludmer-centre-student-award-transdisciplinary-brain-research.