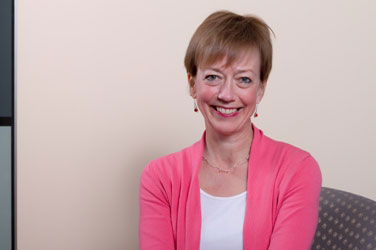 By McGill Reporter Staff
Lucy Lach, Associate Professor in the School of Social Work, and Associate Dean of Student Affairs, has been named to the Board of Governors of Dans la rue, the iconic Montreal organization that helps homeless and at-risk youth.
Dan la rue was founded in 1988, when Father Emmett Johns, known as Pops, bought a Winnebago to minister to Montreal's youngest and most vulnerable youth, dispensing free food, shelter from the cold and "help without judgement."
The van was such a success that Dans La rue now runs a temporary shelter for homeless teens, aged 12 to 21, called The Bunker, and then a day-centre on Ontario St. E. where high school classes and other social services are on offer. About 150 kids and young adults go through the centre every day.
Lach is thrilled with the idea of working with the Dans La rue.
"The Chair of the Dans la rue Board indicated that he was interested in bringing someone on with my expertise. Presumably that has to do with understanding the importance of emerging best practices, program evaluation, and training," says Lach.
Lach says she wants to hear more from the young people who turn to the organization as a last line of defence against despair. Her expertise as a social worker will provide an important bridge between the School of Social Work and Dans La rue.
The fit with Dans la Rue seems like a natural one for Lach, who worked as a front-line social worker for 17 years at the Hospital for Sick Children in Toronto. She's seen a lot of children and families in difficulty. She's best known for her work in the field of paediatrics and neurology as someone who brings the child's and family's perspective into the study of medical interventions and treatments.
The connection also fits into Principal Suzanne Fortier's five priorities for McGill – one of which is to enhance McGill's community partnerships and make the University even more of a leading partner with organizations in the larger Montreal setting that seek to enhance the wellbeing of its citizens.
"The link to McGill is extremely important as it will give Dans La Rue access to students who want to engage in projects that will support the staff and management," she says. "This will ensure that our students' work is grounded in the real world and is making a contribution to the community."