By Mackay L. Smith
Women's education at McGill began in 1884, when Donald Smith made a donation to start the Donalda program for the purpose of providing higher education for Canadian women. He proposed building a college for women in 1886.
Smith moved to London, England in 1896, to become Canadian High Commissioner and was awarded the Barony of Strathcona and Mount Royal. Coming back to Montreal, the new Lord Strathcona funded the construction of Royal Victoria College on Sherbrooke St., a self-contained complex that served as both school and dormitory for female students. At the opening of the college, a bronze statue of Queen Victoria that had been sculpted by her daughter Princess Louise was unveiled on the entrance steps.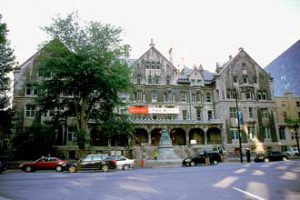 In 1899, Lord Strathcona became the Chancellor of McGill and held the position until his death in 1914.
By 1950 the College had 284 student rooms, the assembly hall had been converted into a concert hall known as Pollack Hall and another residence, the Benny home at Aylmer and Sherbrooke, had been purchased. In 1964, the 12-storey Roscoe Wing was constructed on University St. This gave the College 434 residential rooms.
In 1971, the Faculty of Music took over the original Royal Victoria College building and renamed it the Strathcona Music Building. The residences kept their University/Sherbrooke building along with the Roscoe Wing.
McGill Memories is a regular feature based upon MacKay L. Smith's 2009 book, Memories and Profiles of McGill University. The book is available at the McGill bookstore.