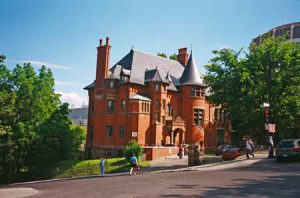 By Mackay L. Smith
Ardvarna was built in 1897 for Andrew Allan, a partner with his brother Hugh in the Allan Shipping Line. The turreted, brick mansion was designed by renowned Montreal architects Edward and William Maxwell and situated on the corner of Pine along the city's famed Golden Square Mile.
Andrew Allan lived there until 1907 when his daughter, Isabella Brenda, married Sir Henry Vincent Meredith, then president of the Bank of Montreal. The shipping magnate gave his daughter and her new husband the house as a present.
The new Lady Meredith was an avid sportswoman who, among other things donated the Lady Meredith Cup in 1920, the first ice hockey trophy in Canada to be competed for between women (in ankle-length skirts). She was also one of the founders of the Montreal Ladies Golf Club. Following the First World War, Lady Meredith set up a rehabilitation centre for wounded soldiers at her and Vincent's Montreal home.
Sir Vincent passed away in 1929 and Lady Meredith lived at Ardvarna until 1941. She donated the house to the Royal Victoria Hospital and it became the Meredith Memorial Residence for nurses. McGill acquired the building in 1975, sharing it with the Hospital for many years, and subsequently named it the Lady Meredith House.
On Jan. 7 1990, the building was broken into and set on fire. Photographs and plans of the Maxwells' work held in the McLennan Library aided the reconstruction. The subsequent renovations of the architectural landmark included the addition of an elevator and a state-of-the-art geothermal heating system.
Various units of the Faculty of Medicine, including the Centre for Medical Education, the Molson Informatics Project, the Division of Experimental Medicine, and the Dept. of Epidemiology, Biostatistics and Occupational Health use the House today.
McGill Memories is a regular feature based upon Mackay L. Smith's 2009 book, Memories and Profiles of McGill University. The book is available at the McGill bookstore.