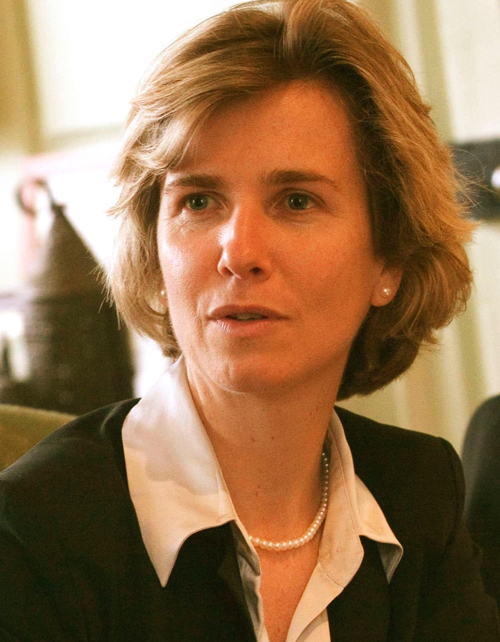 By McGill Reporter Staff
Leith Sharp, Director, Executive Education for Sustainability Leadership, Center for Health and the Global Environment, Harvard School of Public Health, has more than 18 years of experience greening universities, first at the University of New South Wales, where she earned her undergraduate degree in environmental engineering, then at Harvard, where she was the founding director of the school's Green Campus Initiative in 1999. As director, Sharp built the largest green campus organization in the world. The program's efforts were funded largely by the savings it produced – the essence of sustainability. 
On Thursday, Feb. 27, McGill Net Positive will welcome Sharp as she will use lessons learned from the Harvard green building case study, along with other leading organizations, to explore how sustainability can be an innovation driver to transform the 21st century university. For full lecture details, go here.  
Leith's is the second lecture in a four-part series run by McGill Net Positive, a project aimed at connecting sustainability actions across campus in a central hub. For more on McGill Net Positive, go here. 
As Director, Executive Education for Sustainability at Harvard, what is your role?
This is a new role created under Harvard's Center for Health and the Global Environment to enable senior leaders to meet the challenge of driving sustainability into the core business or mission of their organization. We recognize two central leadership demands that are currently underserved.
One is to for individual leaders to become transformational sustainability leaders, that is to be capable of leading systemic change that will shift the sustainability emphasis from just 'doing less bad' to leveraging sustainability as an innovation, growth and effectiveness driver.
The second leadership demand to be faced by any senior leader serious about sustainability is to advance the change capability of their organization. This is a central 21st century demand. We have to become radically good at change and at this point our orgnaizations are not built for that purpose. So we are building collaborations, the USGBC being a central collaborator, to design and deliver executive education offerings to senior leaders, across all sectors, so they are equipped to meet these critical 21st century demands.
What do you think we can learn here at McGill from Harvard's experience of greening historic buildings?
I used to worry about what we could do at Harvard with so many historic buildings. Then I had the good fortune of being on the design team that achieved a LEED platinum rating for an historical building gut renovation and at no added cost. Through this project I saw firsthand that the building, the technology and even the historical restrictions were not the limiting factor. It's the people, the process, the commitment and the capacity for real-time learning. This takes an investment from most universities that they are simply not used to making. There has to be a different kind of investment in people, great process design (integrated design), group intelligence, actively learning from past experiences and more.
From what I understand about McGill you probably have all the ingredients in the kitchen because you have done so much at the grass root level and all you may need is a boost around senior leadership engagement to help get the right investments made in people and process.
What do you mean by "disruptive" sustainability?
I really like putting 'disruptive' in front of sustainability. At an emotive level it invites us to be curious about something unexpected, surprising and possibly completely game-changing about sustainability instead of the rather flat vibe of sustainability just being about doing less bad. And of course there is something game-changing about losing the functionality of our planetary life support systems, however there is also something game-changing in a positive way on offer too. That's what this term is inviting us into, in its broadest sense.
The reality of our planetary imperative, if looked at with courageous clarity, can act like a Zen koen, breaking us open, unleashing our deeper capacity for creativity, innovation, collaboration and group intelligence. This is possible because the overwhelming complexity, urgency and absolutely dire possibilities ahead rub up against our core longing for the wellbeing of life and our species. When we are able to hold this excruciating tension, it can transform us. We can wake up and find ourselves willing to change and create, engage and learn more deeply than ever.
'Disruptive sustainability' is this potential for unleashing incredible new human potential for transforming everything we create. In the business space it gets framed in terms of a technological or business related breakthrough that changes the market and that is how we come to hear it most used. However, it has currency in all sectors, higher education in particular and it starts with the disruption of current mindsets.
Universities are typically focused on research, education, and service. Do we really need to add sustainability to our list of things to address?
No we really don't need to add it to the list. We need to integrate it into what's already on the list and we need to find ways in which it can solve a bunch of the things already on the list.
The future thrive-ability of higher education in the 21st century will depend upon five major transformations. Each and every one of these transformations simultaneously serves the need for societal relevance and as it happens sustainability. They are:
– Transdisciplinarity balanced with disciplinarity
– Co-creation of curriculum and research endeavours
– Action learning, action research, action governance
– More permeability in boundaries between university & community
– Synergies between learning, research, campus & community
It we are going to add anything to the list it would ideally be a new embedded function in the university that is specifically designed to make change easier across the entire organization. Then with this function working well the rest of the university community can be better supported to find ways to locate the advantageous synergies that exist between what they are already tying to achieve regarding new ways of thinking, teaching, learning and doing and the ways in which sustainability can be a positive driver for that work.
What is the future of Universities in North America? What are those in high school or even elementary school going to expect from a university education?
Well the U.S. Green Building Council has this wonderfully framed mission to "create green schools for everyone within this generation." If the calibre of their team is anything to go by I bet they will too.
Beyond the USGBC of course there is an enormous groundswell of talented and committed people working to transform K-12 and things are picking up speed right across the board. So higher education is on notice. Already we know that "among 9,955 college applicants The Princeton Review surveyed in 2013 for its 'College Hopes & Worries Survey,' 62 per cent said having information about a college's commitment to the environment would impact their decision to apply to or attend a school."
Put simply, it is likely that the future student will expect nothing less than a university that has imbedded sustainability into the very core of its teaching, research, operations and outreach and what's more they are going to want their university to prepare them to do the same imbedding right across society.