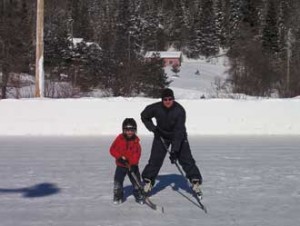 By Jim Hynes
My name is Jim and I'm a Habsaholic.
I like to use words like "passionate" and "intense" to describe the level of my devotion to the Montreal Canadiens. My wife likes to use words like "mental" and "illness."  And she might have a point. If other addictions are actually a disease, then being hooked on hockey might be too. Come to think of it, I may not even be responsible for my own behaviour.
My love of the Canadiens sometimes causes me to behave irrationally. In the heat of the action, I have thrown objects at TV sets  (softer things now, since we got a flat screen) and found myself in huge arguments with close friends. Last spring, in the corridor connecting the Bell Centre to Windsor Station, I lambasted a giant poster of Steve Bégin because he (not the poster) took bad penalties in a big game.
The worst part is the hangovers. I never sleep the night the Canadiens are eliminated from the playoffs – I toss and turn like a man caught in a bad dream. (I slept like a baby the summer of 1993, though.) I'm pretty much a mess for days.
I'm trying my best to beat this thing, but it's hard. I come to McGill by commuter train every day, disembarking and re-embarking right outside the Canadiens' Bell Centre home. Yes, the Habs are with me morning and night, sometimes at noon, too.
Cutting back or quitting, this year, of all years, is going to be next to impossible. With one celebration after another planned for this, the team's centennial season, the Habs are everywhere. I didn't like last year's grammatically dubious team slogan, "La ville est hockey" ("The city is hockey"). There is some truth to that sentiment though, especially in 2008-2009.
I like to think there is some good to be found in my hockey obsession. More and more, I find myself watching games with my two sons, aged 6 and 10, who have inherited my love of the Habs. I have to tell my inner Neanderthal to tone it down when they are flopped on the couch with me. This can be hard when Georges Laraque is on the ice seeking to avenge a wronged teammate. But kids of that age ask a lot of questions and for once I actually have some of the answers.
This year's Canadiens slogan is "L'histoire se joue ici", (basically "History is played out here") and the parade of white-haired greats on hand as the team looks back 100 years gives me the opportunity to tell my kids about another time in the city we live in, a time when hockey players lived in apartments and held second jobs on beer trucks and in car dealer showrooms to get by. On opening night this year I introduced them to 90-year-old Elmer Lach and 89-year-old Emile "Butch" Bouchard, who was rolled out for the ceremonial opening faceoff in a wheelchair. These stars of the 1940s played in a time of uncertainty, a time of war, and all for a few thousand dollars a year. And that's partly what made them great. In a time before greedy agents, hockey players played for the love of the game, the thrill of competition – and not much else.
My family and I spent part of Thanksgiving weekend with my friend Randy Flanagan, a psychology professor at Queen's University and the grandson of McGill hockey and football great James Cyril "Flin" Flanagan. In 1917, at the age of 19, Flanagan was left for dead after a bloody battle at Passchendaele, Belgium, during World War I. He recovered, and despite the shrapnel in his legs and torso, he later captained the McGill hockey team and played on the Yates Cup winning football team of 1919. A sensational stickhandler, he was offered a $4,000 contract in 1922 to play for the Canadiens, but he turned them down to pursue a career in dentistry. When he graduated in 1923, he opened two dental clinics, an expensive one serving a well-heeled Westmount clientele and a free one for the poor in the city's East End.
What do my boys make of these informal history lessons in life and sport? Can they identify with the athletes of a bygone era in any way? I'm not sure. The message I hope they're getting is this: Do what you do, be it school, your job, or hockey, with passion and commitment, and you will succeed. And if they don't relate, well, at least we had fun watching the game together.
I hope the players on the centennial edition of the Canadiens are watching the passing parade of greats closely and learning something themselves. Because it's been 15 years since the Canadiens have won the Stanley Cup, and I could sure use another good summer's sleep.
Jim Hynes is the Associate Editor of the McGill Reporter and co-author of the recently published, Saving Face: The Art and History of the Goalie Mask (John Wiley & Sons Canada).