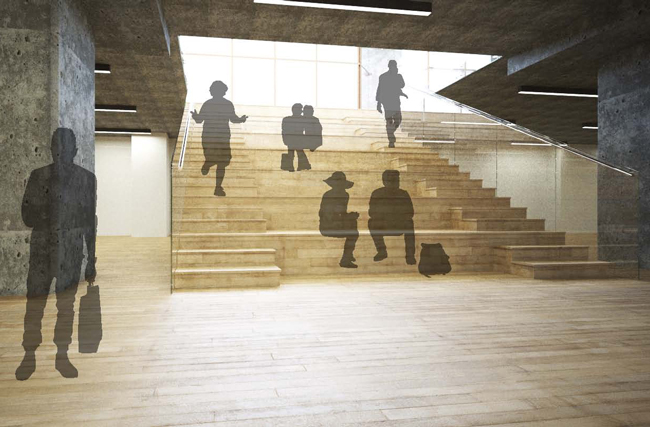 McGill's nomadic bookstore, Le James, located in 680 Sherbrooke St. W., is moving again – but very close by and only temporarily.
The Bookstore, which moved out of its McTavish Street digs nearly two years ago to make way for the Desautels Faculty of Management's MBA and Master's programs, is undergoing a significant renovation made possible by the fact McGill now owns all of the 680/688 office tower at the corner of Sherbrooke St. and Robert Bourassa Blvd.
"This is a great step forward for us, which will allow us to bring almost all of our operations back under one roof," said General Manager Jason Kack. "There may be a bit of disruption along the way, but we're really excited about opening the doors on a whole new bookstore experience before classes get under way next fall."
At the moment, bookstore operations are divided between the 680 Sherbrooke St. store and the textbook sales (except for Continuing Studies courses) venue at 3544 Ave. du Parc. That store will remain open until the new facility opens in time for Fall classes on two floors at 680. And, in spring and fall, the bookstore also has a portable outlet on the lower downtown campus.
Moving out of its main floor space at 680 into renovated space on the same floor, farther into the building, will require Le James to close for a week, beginning this Saturday, Feb. 10, with a reopening scheduled for Monday, Feb. 19. During this period, online orders can still be picked up near the present store at 680. There is signage to direct customers to the pickup location.
The highlight of the renovation will be a vast staircase going down to the lower level, where books and course materials will be sold. During quieter times, the middle of the staircase will serve as a seating area. In addition, there will be improvements to the main floor space's flooring, shelving and lighting.
"When we moved from McTavish two years ago, we were still waiting for McGill to complete negotiations for the sale of the portions of the building McGill didn't already own," Kack said. "With the sale complete, we can now expand our space to better serve our community in one location. We can't wait to be up and running in the renovated store and we feel our temporary space on the main floor of 680, while not ideal, will serve the community's needs in the interim. We'd like to thank everyone for their patience and thank our staff for the hard work they're doing to get us moved. It's a big undertaking."