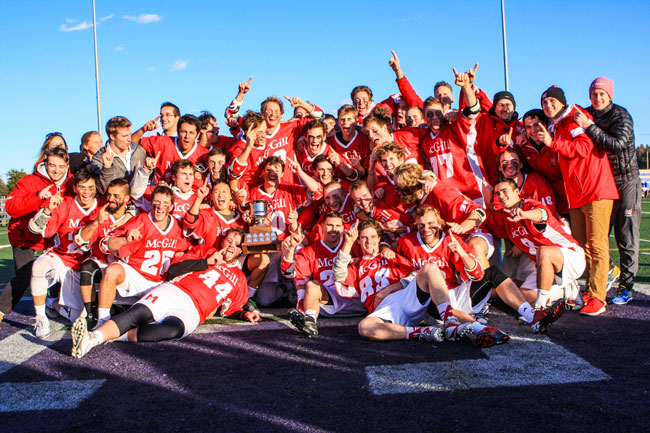 Bolstered by a spectacular seven-goal performance from co-captain Anders Bjella of Milwaukee, Wisc., McGill trampled the Western Mustangs 15-11 at Coulter Field, Sunday, to capture the Baggataway Cup as champions of the Canadian University Field Lacrosse Association. It was the second national crown for the team, which previously won in 2012.
The victory capped a perfect season for the Redmen, who went 15-0 against CUFLA opponents – three of them in post-season play – en route to producing the second national title of the fall semester for McGill University, which also claimed the Canadian Collegiate Baseball Association banner a few weeks ago.
"It's really exciting, mission accomplished," said Tim Murdoch, in his 13th season as head coach at McGill. "To go undefeated, now that I reflect on it, is almost more of a feat than winning the championship itself. Our theme developed by the captains this year was 'As one' and we literally took that to heart today. It was a team-based win.
"After reaching the final in each of the last four years, I think that perhaps we were expected to win this championship compared to our 2012 title where we were in more of an underdog role, so the feeling is quite different. Many of our guys playing today will be graduating and they were all freshmen when we won that first championship."
In fact, the Redmen will be decimated with 12 seniors not expected to return, including all four co-captains, namely Connor Goodwin, Anders Bjella, Paul Rakoczy and Rufus Frost, who suffered a knee injury in the first half.
McGill, which never trailed in the final, led 2-1 after the opening quarter, 7-1 at the half and 11-5 after three before taking their foot off the throttle and making some lineup changes. Western never gave up, to their credit, and outscored the Redmen 6-3 in the final stanza.
Despite the lopsided score, the shots on net were fairly even, with McGill holding a slim 22-21 advantage.
Bjella, a 22-year-old management senior and a 6-foot-1, 185-pound midfielder, was named as McGill's player of the game. "It was the best that I've ever seen him play, by far… just an incredible performance by him," said Murdoch.
Bjella was one of eight different Redmen marksmen to hit their target. The others included Spencer Bromley with two, plus Emile Sassone-Lawless, Maxime Murdoch, Quinton Bradley, Drew Laird, Jake Gutman and Goose Bolton.
Western player of the game Ryan Myles tallied four times in a losing cause for the high-scoring Mustangs. The London-based team also had hat-tricks from both Ryan McRory and Cody Ward, in addition to one goal from Sam Neeb.
William Waesche, McGill's All-CUFLA goaltender, saved 10 of 21 shots for the victory, while Western's Manraj Nijar conceded 14 goals on 22 shots for the loss.