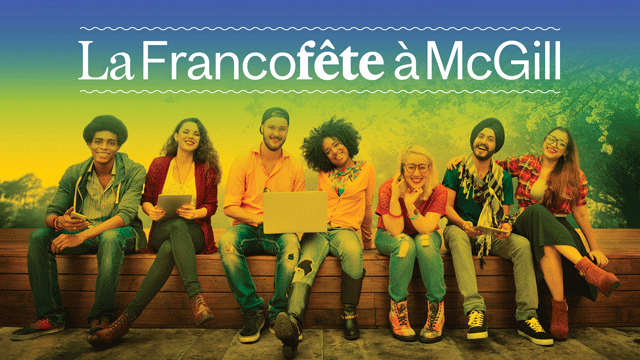 La Francofête is back!
For the past five years, the Centre d'enseignement du français (CEF) in McGill's Faculty of Arts has organized Francofête to mark the International Francophonie Day (March 20). This year, we may not be able to raise a glass (in person, at least) to toast the vibrant French language and culture on McGill's campuses — but the CEF is still offering a fun variety of online activities and events to engage McGill's francophones and francophiles. This year's virtual Francofête runs from March 22 to April 2.
Each year, the CEF uses Francofête to showcase the many francophone and francophile initiatives, as well as individuals, at McGill, with a goal to raise awareness of their work, create connections and celebrate their successes.
Natallia Liakina, Director of the CEF and one of the organizers of the Francofête, explains that the festival is a multidisciplinary and interdepartmental collaboration — "a mosaic where each unit, department or group can find its place."
To that end, Joannie Proulx, Coordinator of Student Activities at the CEF, said that this year's festival will include the debut of a series of video vignettes entitled Regards sur la francophonie mcgilloise "that will highlight different initiatives and individuals who contribute to the spread of French on our campuses and in the community." The videos will be posted on social media sites during the Francofête celebrations.
She notes that this year's all-online format has the added advantage of "allowing us to come together and celebrating the Francophonie from anywhere in the world!"
This year's activities (en français bien sûr) include:
All activities will be live on Zoom.
There is also still time to participate in two Francofête 2021 contests:
Francophi-LIS reading contest (deadline: Friday, March 19):
Are you learning French? Do you want to practice your oratory skills – and maybe even win a prize? Enter the École de langue de l'UQÀM's Francophi-LIS contest! Just choose a short text by a French-speaking author, explain why you like it, and then read it out loud. (Three-minute time limit.) Register by contacting samantha.damay@mcgill.ca.
Creative writing contest (deadline: Wednesday, March 24):
Got the pandemic blahs? A little creative writing may be just what you need! Le Délit and the CEF invite McGill students to their creative writing (maximum 1,000 words). Entries will be judged in two categories: French as a Second Language students and French-speaking students. Prizes include a copy of Antidote 10 and gift cards!
Check out the full calendar of Francofête activities.