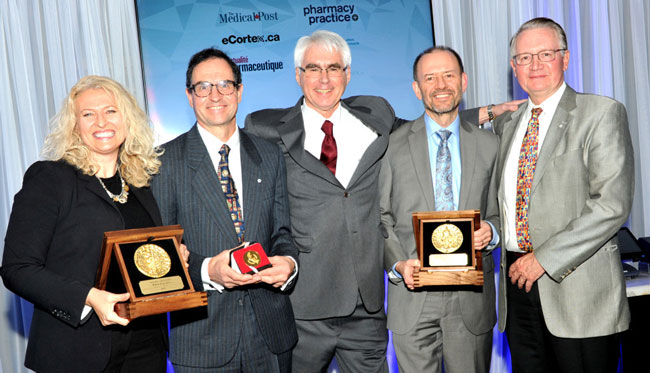 By Meaghan Thurston
McGill researcher Dr. John Bergeron was awarded the Research Canada Leadership Award on Nov. 17, at a gala hosted by Rx&D's Health Research Foundation in partnership with Prix Galien Canada and Research Canada. The Research Canada Leadership Award honours champions in health research advocacy and is given on an annual basis to recognize outstanding efforts in advocating for Canadian health research.
"McGill is proud to count such an exceptional individual as Dr. Bergeron among its faculty," said Dr. Rosie Goldstein, Vice-Principal, Research and International Relations. "The Research Canada Leadership Award recognizes Dr. Bergeron's outstanding commitment to fostering collaborations related to health research, his remarkable aptitude for communicating the significance of Canada's biomedical discoveries, and his tireless advocacy for Canadian investment in research and development and research talent."
In his speaking engagements and in articles published in Canada's major news publications, Dr. Bergeron has championed Canadian investment in fundamental science and new drug development in Canadian-based research labs. Bergeron has also led fundraising initiatives for Montreal-based drug development companies in an effort to prevent the talent drain that occurs when Canadian research operations are displaced to countries with better research commercialization prospects than Canada, such as in the U.S, Europe and Asia. His is considered an important voice among biomedical research communities across the country for responding to the call led by Governor General David Johnston to promote Canada's extraordinary research record and achievements, in order to increase international recognition for leading scholars and scientists in Canada.
As a researcher, Dr. Bergeron has distinguished himself through his highly cited studies of the proteins in human and animal organs, uncovering their functions in health and disease. By the assiduous processing of samples from human and model organisms, Dr. Bergeron's lab has characterized proteins within organelles (small intracellular compartments responsible for cell homeostasis) isolated from organs linked to health and disease.
His work with Dr. Barry Posner uncovered how and where signal transduction from insulin and growth factors take place in target cells and with fellow McGill Professor Dr. David Thomas led to a concept described as the "Calnexin Cycle" that defined a new sugar-based code in protein folding. In recent years, Dr. Bergeron has pioneered the field of organelle proteomics.
As the Chair of the Department of Anatomy and Cell Biology at McGill from 1996 to 2009, and as the Co-Director of the Laboratory of Systems Medicine and Cell Biology in the Department of Medicine, Dr. Bergeron has demonstrated his leadership in academic and administrative affairs.
Dr. Bergeron is a Rhodes Scholar, a Fellow of the Royal Society of Canada (RSC) and was previously awarded the RSC's McLaughlin Medal. Dr. Bergeron was also honored with the Human Proteome Organization Discovery Award in 2010 and is currently Emeritus Robert Reford Professor in the Department of Medicine of the MUHC Research Institute.