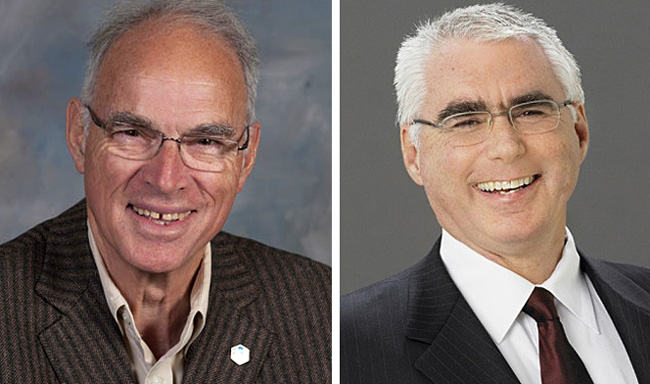 Two members of the McGill community will be added to the ranks of the Ordre national du Québec, on June 22, in recognition of their outstanding contributions to Quebec society. As announced on June 13, Dr. John Bergeron and Dr. Nicolas Steinmetz will be among 34 people who will receive Quebec's highest honour in a special ceremony in the National Assembly's Legislative Council Chamber.
"On behalf of the people of Quebec, it is a real pleasure for me to welcome these exceptional women and men into the ranks of the Ordre national du Québec," said Premier Philippe Couillard. "These people contribute to Quebec's reputation while pushing the boundaries in their respective fields of activity. In this sense, these recipients have the power to inspire an entire people and they make me very proud, both as premier and as a Quebecer."
Both Drs Bergeron and Steinmetz have been named Knight (Chevalier) of the Ordre National du Québec.
Dr. John Bergeron
As a researcher, Dr. Bergeron has distinguished himself through his highly cited studies of the proteins in human and animal organs, uncovering their functions in health and disease. By the assiduous processing of samples from human and model organisms, Dr. Bergeron's lab has characterized proteins within organelles (small intracellular compartments responsible for cell homeostasis) isolated from organs linked to health and disease.
As the Chair of the Department of Anatomy and Cell Biology at McGill from 1996 to 2009, and as the Co-Director of the Laboratory of Systems Medicine and Cell Biology in the Department of Medicine, Dr. Bergeron has demonstrated his leadership in academic and administrative affairs.
Dr. Bergeron is a Rhodes Scholar, a Fellow of the Royal Society of Canada (RSC) and was previously awarded the RSC's McLaughlin Medal. Dr. Bergeron was also honored with the Human Proteome Organization Discovery Award in 2010. In 2015, he was awarded the Research Canada Leadership Award in recognition of his efforts in advocating for Canadian health research.
In 2016, Dr. Bergeron was awarded the McGill University Medal for Exceptional Academic Achievement (. The McGill Medal is awarded to retired members of the University's academic staff who are uniquely deserving in light of their exceptional contributions to their discipline, to the University and to society at large.
Dr. Nicolas Steinmetz
Born in Colombia to German parents, Dr. Steinmetz came to Canada at the age of 15 to further his studies and then decided to stay. A McGill Science and Medicine graduate, he first worked as a general practitioner in Newfoundland. He subsequently completed his residency in pediatrics at the Montreal Children's Hospital, after which he received a Master's in Public Health from the University of Michigan.
A pioneer in the field of social pediatrics, Dr. Steinmetz was instrumental in developing pediatric services in Pointe St Charles, Little Burgundy, Kahnawake, Baffin Island and northern Quebec.  In 2015, the Nicolas Steinmetz – Gilles Julien Chair in Social Pediatrics in the Community was created. Jointly held by McGill's Faculty of Medicine and the Montreal Children's Hospital Foundation, the chair focuses chiefly on the challenges faced by disadvantaged children and the social factors that affect their health and wellbeing, as well as the defense of children's rights and the drafting of social policies.
After launching McGill's first Family Medicine Unit, he spent two years participating in the creation of the University of Nairobi's School of Medicine (Kenya).
Upon returning to Montreal, Dr. Steinmetz became Director of Ambulatory Services at the Montreal Children's Hospital and was soon promoted Director General for two terms. A leading figure in the merger of the five McGill teaching hospitals that now form the McGill University Health Centre (MUHC), he became planning director for the new Glen Campus of the MUHC. At the ribbon-cutting ceremony to pen the Glen Campus in 2015, MUHC Board Chairman Claudio Bussandri singled out Dr. Steinmetz. "The new MUHC is in many ways the brainchild of Dr. Nicolas Steinmetz and I'd like us all to recognize him for his vision," said Bussandri.