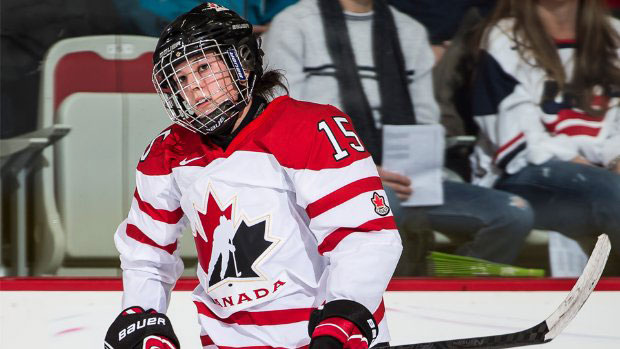 You can excuse Mélodie Daoust if she may a little tired these days.
On Thursday, Jan. 7 (Daoust's 24th birthday), she was in Füssen, Germany, lacing up her skates as part of the Canadian national development team in the gold-medal game against Finland at the Nations Cup.
While the physical education senior was held off the scoresheet for the first time in the three-game tourney, she served as team captain in a thrilling 4-3 overtime win. Daoust tallied the shootout winner in a 2-1 victory over Sweden in the tourney opener and added one goal and an assist in Canada's second game, a 4-2 conquest over Russia.
Not content to rest on her laurels, Daoust grabbed a six-hour transatlantic flight to Dorval the next day. A mere six hours later, the 5-foot-6 centre donned a different red and white jersey – this time of the McGill Martlets – as the team squared off against crosstown rival Concordia.
Showing no signs of fatigue, Daoust scored once and added three helpers as No.2-ranked McGill skated to a 5-2 victory.
""My legs were a kind of heavy after a long plane ride and I didn't sleep a lot because the adrenaline was flowing after the gold medal victory," Daoust told McGill's Earl Zukerman, estimating that she had about 30 minutes of sleep on the eight-hour flight back to Montreal, which landed around 12:30 p.m. "[Head Coach] Peter Smith asked me how I felt and I told him that I was good to go. I was happy that he respected my choice."
"Melo's performance was very inspirational and the players gave her the game puck in the dressing room," said Smith. "She got off a long flight from Europe, grabbed a lift downtown, put on her equipment and went to work in a game that essentially finished at 3 a.m. on her body clock. She had lots of jump, plenty of get-up-and-go and proved that she is a great captain for this team."
Daoust now leads the RSEQ conference scoring race with 18 points, including six goals in 11 games. She is ranked sixth in the CIS national scoring race but is first in points per game, averaging 1.64. Daoust helped Canada win gold at the 2014 Sochi Olympics, after which she slept wrapped in a Canadian flag.