Mélodie Daoust, former Martlets captain and three-time McGill female athlete of the year, will be donning a Canadian jersey once again in mid-February, at the Winter Olympics in PyeongChang, South Korea.
Daoust graduated in Physical and Health Education from McGill last spring. She's one of 23 players recently named to the Canadian Olympic women's hockey team for the 2018 Winter Games.
This will be Daoust's second Olympics, as she was the youngest member of the squad that brought home gold for Canada at the Sochi Olympics in 2014. The Canadian women's hockey team has won gold four consecutive times. Hopes are high for a fifth win for Canada.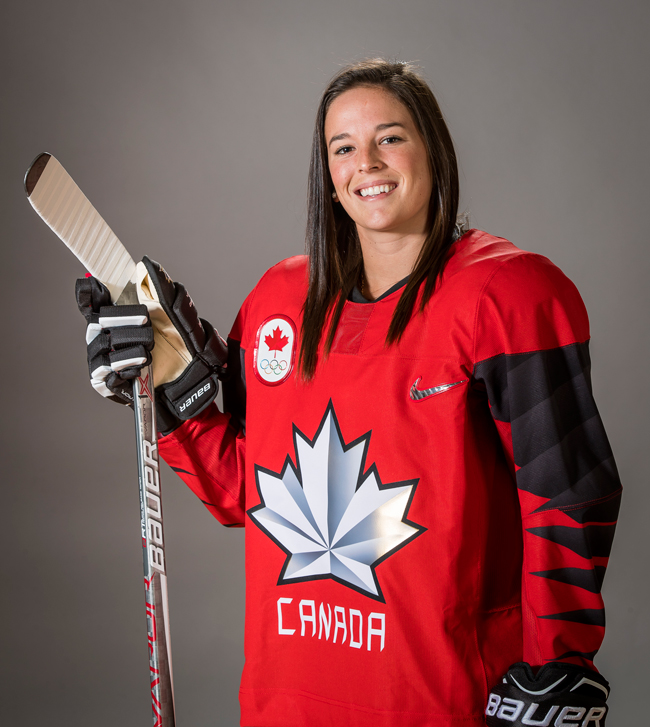 "We want to win again, so that women's hockey grows and there will be more and more fans," she said in an interview with the Reporter. "We go to war every time we play the U.S., and we are definitely not friends. We both want to win."
Daoust says that the foundation for her current success was laid in large part at McGill.
"I have to thank Peter Smith for allowing me to grow my game and McGill for helping me to grow as a person," she said. "I just turned 26 yesterday and I wouldn't be here if it wasn't for the McGill community. During the Sochi Games fans watched at Thompson Hall and cheered us on. I hope we'll make the fans proud in PyeongChang, too."
"Mélodie's worked so hard to get back to the Olympics for a second time," said Martlets head coach Peter Smith, who served as an assistant coach for Canada at two Winter Olympics. "She's an absolute beast when it comes to work and has improved so much. She's had to fight through some adversity to overcome injuries. Daoust is a smart player, a real competitor, and reads the game well. I expect her to be very effective at the Olympics.
"We've produced a number of Olympians and Mélo continues to carry the torch for us," said Smith. "It's so important for the McGill Martlets hockey program to keep recruiting talented players like her."
Daoust served as team captain of the Martlets twice, scoring 116 goals and 272 points in 143 games overall. A four-time All-Canadian, the 5-foot-6 forward was a three-time recipient of the Gladys Bean Trophy as McGill's female athlete of the year.
Daoust is one of five McGill women's hockey players to have competed at the Games, along with defenceman Catherine Ward (2010, 2014),  goaltenders Kim St. Pierre (2002, 2006, 2010) and  Charline Labonté (2006, 2010, 2014) – each of whom played for Canada. In addition, Laura Ruhnke, who patrolled the blueline for Switzerland at the 2006 Turin Games.
McGill has a long tradition of involvement with the Olympic Games dating back to the late Percival Molson, the University's first Olympian who competed in track and field at the 1904 Summer Games in St. Louis. Since then, 125 McGill students or grads that have gone on to Olympic glory over the past century. These McGillians have won a combined total of 30 Olympic medals, 11 of them golden, in addition to six silvers and 13 bronzes.
"I was watching TV during the 2002 Olympics and I remember saying to my parents that one day, I wanted to be on TV and play for Team Canada at the Olympics," said Daoust. "When I first got the call to play at the U18 world championship, I could not believe it. I was so excited!"
The women's hockey tournament opens on Feb. 10 and culminates on Feb. 22. Canada is scheduled to begin preliminary-round play on Feb. 11 against Russia.