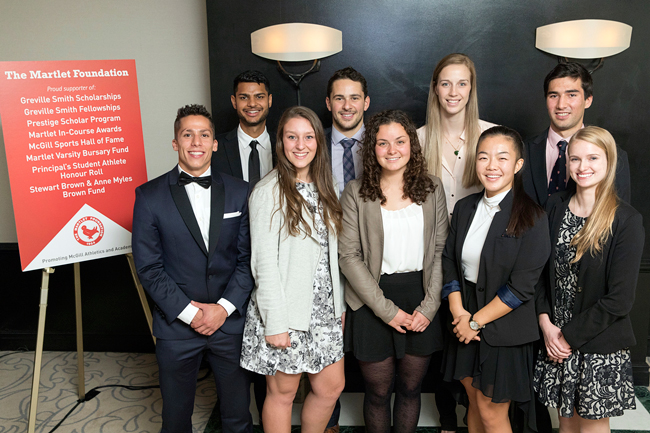 Four recipients of the prestigious Jean Béliveau Award were among 11 scholarships handed out recently to McGill student-athletes at the Martlet Foundation's annual general meeting held recently at the Ritz-Carleton Hotel.
Alex Kiss-Rusk of Beaconsfield, Que., who led the basketball Martlets to their first-ever national championship last spring, heads the list for the Béliveau Awards, a $3,000 bursary established in 2016 to recognize outstanding student-athletes for leadership in the community. The three other honorees include hockey team captain Nathan Chiarlitti, a native of Maple, Ont.; volleyball's Marjolaine Ste-Marie of St. Lambert, Que.; and soccer's Sanchit Gupta, who hails from Ottawa.
Gupta was a double winner, pocketing an additional $2,000 as one of three 1938 Champions Award recipients, along with William Stone of Toronto, a rare two-sport athlete who competes for both, the rugby and alpine ski teams and Patrick Farias, a track and field sprinter who hails from Laval, Que.
The award is named after the 1938 championship-winning McGill football and hockey teams, who lost eight men during the Second World War. The prize is awarded to recognize students who have demonstrated high academic performance and have shown leadership in the McGill community through a significant contribution to student activities and organizations, including athletics.
Also announced were three recipients of the Dorothy Nichol Award, a $2,000 bursary presented on the basis of academic achievement and contributions to extra-curricular activities in athletics.
The new laureates included rower Sarah Zhou of Mississauga, Ont., volleyball's Catherine Duchaine of Anjou, Que., and Sidonie Chard of Kingston, Ont., who skates for the hockey Martlets.
Finally, Lysanne De Broux of Westmount, Que., and a member of the Martlets synchronized swim team that won a national championship last spring, received the T. Palmer-Howard Award, an annual $2,000 prize awarded annually to a student, preferably on the swim team, who has demonstrated leadership on an intercollegiate club while maintaining high academic standing.