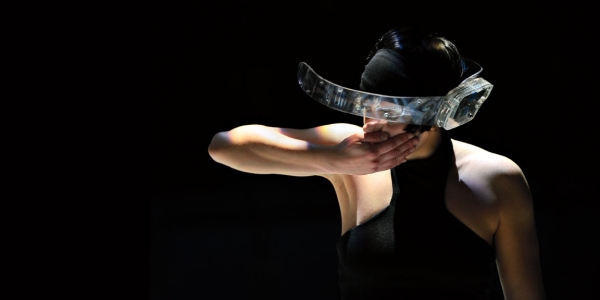 A THREE-YEAR RESEARCH-CREATION PROJECT AT MCGILL CALLED "LES GESTES" HAS YIELDED A FUTURISTIC-LOOKING WAY OF THINKING ABOUT MUSIC.
PhD students Ian Hattwick, Joseph Malloch and Marlon Schumacher are members of the Input Devices and Music Interaction Laboratory.
Under the direction of Dean of the Schulich School of Music, Sean Ferguson, McGill professor Marcelo Wanderley and Isabelle Van Grimde of Van Grimde Corps Secrets, they designed a series of 3D-printed prosthetic instruments that attach to the head or the spine.
The wearer plays the instrument simply by moving his or her body.
"When you are manipulating something with your hands, as you would with a typical instrument, there is resistance from the thing you are touching, pushing or squeezing," Malloch explains. "That offers a much more nuanced kind of control than when you are just using your own sense of your body's space."
Made up of laser cut and 3D-printed acrylic and polycarbonate pieces, some of the musical devices resemble prosthetics, such as those in the shape of vertebrae; others are visors worn on the dancers' heads. These devices are illuminated
with LEDs and equipped with sensors, so that sound is produced through gesture, movement and orientation.
The team took their creations on tour throughout Quebec and Europe in March and April of 2013 with a dance and music performance featuring choreography by Van Grimde for the devices and a musical score for violin, cello and electronics
by Schumacher and Ferguson.
Schumacher found the experience a natural extension of his work in music composition and technology. "From an artistic point of view, what I found really interesting was actually merging live acoustic sounds from a violin or cello with
the dancers' gestures to create a fusion of these two elements," he says. "They were not parallel; rather, they were interacting and intertwined."
This research was supported in part by a grant from the Fonds de recherche du Québec – Societé et culture. For more information about the Montreal-based Van Grimde Corps Secrets, visit www.vangrimdecorpssecrets.com.