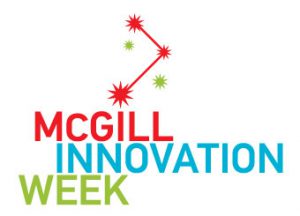 Each year, McGill Innovation Week showcases innovative research and activities, while connecting innovators and entrepreneurs from both inside the University and the community at large. From Nov. 13-19, 2016, student associations, internal stakeholders and community members will come together to discuss how to facilitate innovation and foster social and economic development. This year's highlights include:
Opening event: "Entrepreneurship au Féminin" (Monday, Nov. 14, 5-7 pm). Five successful entrepreneurs will talk about the challenges they've faced during their careers:

Anna Chif (co-founder, Dialogue health care technology)
Margaret Magdesian (CEO and founder, Ananda Microfluidics biotech devices)
Caterina Rizzi (COO and co-founder, Breather office-sharing system)
Marie-Philip Simard (CEO, Chic Marie haute couture clothing rental company)
Natalie Voland (CEO, Gestion Immobilière Quo Vadis retrofitter of historically relevant buildings)

The event will take place in Room 202-203 of the SSMU Building. MBA candidate Natasha Sakina Alani will moderate the discussion.
Panel: "Innovative Careers after a Music Degree" (Tuesday, Nov. 15, 7-10 pm). A degree in music can lead to many different career paths. In celebration of McGill's new Music Entrepreneurship minor, five graduates of the Schulich School of Music will discuss their own trajectories:

Martine Gagné (freelance violist and physical therapist specializing in musicians' injuries)
Jonathan Keijser (filmmaker and musician)
François and Pierre Lamoureux (filmmakers, music producers and musicians)
Lindsay Michael (CBC Radio producer, founding artistic director of Liederwölfe Opera Collective)

Interim dean Julie Cumming will moderate the discussion, which will be held in Tanna Schulich Hall in the Wirth Music Building. A screening of Keijser's film "What Would Beethoven Do?" will follow.

Walking tour: "Discover the Quartier de l'innovation and Innovative Startups!" (Wednesday, Nov. 16, 1:30-4:30 pm). Officially launched in 2013, the Quartier de l'innovation (QI) was established by McGill University and École de technologie supérieure (ÉTS) to catalyze innovation and entrepreneurial culture in Montreal. Learn more about the activities going on in this vibrant "living laboratory" in Montreal's historic South West district.
Research conference: "Animating Pedestrian Zones in the Sonic Dimension" (Friday, Nov. 18). This day-long event, a co-presentation with the Goethe-Institut and Ville de Montréal, will explore the role that sound plays in the success – or failure – of public spaces. An international group of experts on urban planning, design and soundscapes will discuss noise, silence and how visual and audio elements come together to create ambiance. The event will be held in the Centre for Interdisciplinary Research in Music, Media and Technology.
Registration is required for many of the events. Details, and a full schedule of McGill Innovation Week 2016 events, are here.