By Jennifer Towell
A multi-tasking professor makes connections around the world to foster peace in the Middle East
Back in 1983, an undergraduate political science student at the University of Victoria had two choices for his honours thesis: the Falklands War or the conflict in Lebanon. His wife weighed in – the South Atlantic was boring. That comment launched Rex Brynen on a Middle East research focus that has earned him international stature.
"I thought it was really fascinating stuff," he recalls. "And indeed it is – there's never a dull moment in the region."
And dull moments seem rare in the life of McGill political science professor Rex Brynen: researcher, award-winning teacher, consultant to Canadian and international governments and non-governmental organizations and familiar media commentator.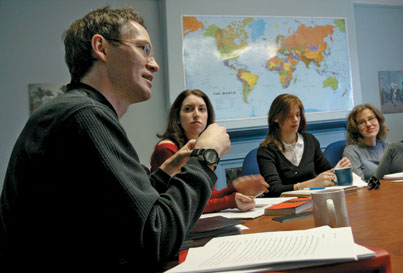 Brynen says the many forms taken by his interest in conflict, peace and the Middle East place heavy demands on his time but ultimately complement one another. For example, his academic qualifications landed him a year-long appointment as a policy planner in Canada's Department of Foreign Affairs in 1994 and an ongoing policy advisory role. "Involvement in policy issues in turn informs my teaching and research, and vice-versa," he says. Then there's discussing complex political issues in short interviews on radio or TV – "which is like teaching, but with less time and on a larger scale."
About five years ago, when informal Canadian diplomatic activities around the Palestinian refugee issue – called the "Ottawa Process" – were at their peak, it was not uncommon for Brynen to make a trip to the Middle East over a long weekend, then be back in time for teaching commitments.
Now that glimmerings of a peace process post-Arafat have refuelled interest in two hot-button issues close to Brynen's academic heart – the refugee question and development challenges for the West Bank and Gaza – Brynen is on the phone and email with renewed energy, exchanging ideas as he plans more travel.
Brynen, who did his graduate work at the University of Calgary, says that McGill and Montreal are the perfect base for a career in Middle East studies. At McGill, strong programs in political science and Islamic studies contribute to his multidisciplinary field. Located close to the political centres of Ottawa, Washington and New York, Montreal has seen interest grow in the Middle East, not only at the city's many universities and colleges but within the community at large.
This burgeoning interest explains why his course on politics in developing areas draws more than 600 students from a variety of nations and backgrounds. "There is a broad array of views, but I am always impressed how polite and respectful the debate is."
He has designed an imaginative curriculum for the students in his smaller course on peace building, including a spring trip to Ottawa to meet with officials in Foreign Affairs and an online war-to-peacetime simulation in the fictional land of Brynania which gives participants first-hand experience of "how well-intentioned people manage to mess things up. The students learn a lot from their mistakes."
He firmly believes that academics working in areas like his can have an impact. Parties in the conflict sometimes draw on academic research, and academics can often engage in informal discussions of topics that are too sensitive for the politicians. They can also make very practical contributions to capacity building. For example, "research on the refugee issue enhances the ability of the Palestinian Authority to plan for its own future with regard to integration of refugees," he says.
The desire to make a difference is one that Brynen shares with many of his students who are looking to varied international careers. "Students are pleased to see you can do teaching and research and stay connected," he says. "They see that McGill faculty are engaged all over the planet."
---
Funding for Rex Brynen's research comes from the Social Sciences and Humanities Research Council of Canada, the International Development Research Centre and the U.S. Institute of Peace.