As chief adviser to the British Prime Minister, Wendy Thomson was at the centre of reforming U.K. public services such as health, education and local government. Since returning in 2005 to her alma mater, McGill's School of Social Work, she's been working to improve governance in developing democracies.
By Kristian Gravenor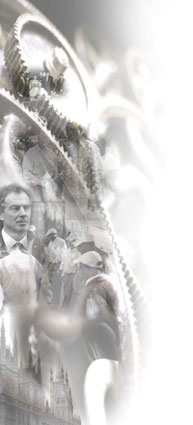 For Wendy Thomson, policy is not only about having the right ideas, it's about delivering the right outcomes. In 2004, after working with the Nigerian government to develop public services more responsive to citizens—and less prone to delays and "extra payments" for basic services—she paid a visit to a school in the country's southern district. She was surprised to be greeted by a community group that introduced themselves as the Parent Teachers Association, "a pretty middle-class anglo-Western phenomenon one wouldn't expect to transport well into rural Africa." Never missing an opportunity for showing generosity, they presented her with a wheelbarrow filled with yams and live chickens as thanks for visiting their school. The improbability of Thomson having the skills to turn these gifts into dinner brought laughs all around. "That was just one of the many humbling experiences of working with people in the developing world," she says.
Thomson has always insisted on bringing together intellectual analysis and real-world problems. She was born in the working-class Montreal neighbourhood of Verdun, and spent her formative years working with community groups such as Head and Hands and Elizabeth House and volunteering at Centraide (the Quebec equivalent of the United Way). "I've always wanted to make the world better," she says. She was one of the first generation in her family to secure a university education, obtaining a BSW and MSW at McGill before receiving her PhD from the University of Bristol. She continued her career in public service at the Greater London Council in 1985, working with the infamous "Red Ken" (Ken Livingston, now mayor of London), eventually rising to a top job advising Prime Minister Tony Blair on public service reform.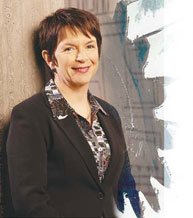 Thomson left 10 Downing for McGill shortly after Blair's third election, in 2005. Having turned around the performance of major state-run programs, she next focused on matters of governance and public service reform in Africa and the Middle East. "Health and education are at the top of the public's concerns in countries around the world," she says, "and effective governance, not just a robust market economy, is now recognized to be the most important element in successful development in poor countries. No longer can these governments rely on a deferent population to accept graciously whatever services are offered—nor can they avoid the intense media interest and political debate about who should pay and what can be afforded." Many developing countries, however, have a recent history of dictatorship or armed conflict that has destroyed key governance institutions (parliament, the civil service, departments of state, local council) and eroded the capacity required to make them work. Thomson's work addresses how modern institutions of government and civil society can be built and successfully sustained.
In 2005, she began working with President John Kufuor in Ghana, Africa's first independent state. Based in the Office of the President at the "Castle" on Benin Bay, Thomson's work involved assessing the ability of the office to effectively hold ministers and government departments accountable for delivering policy priorities. This project established the functions necessary to support Ghana's equivalent of the West Wing or Downing Street—functions such as strategic communications, making use of both traditional local networks as well as modern media. Kufuor is committed to diversifying Ghana's economy and bringing the country to middle-income status, which requires a very different civil service and departmental capacity from the more statist approaches of the past. Because it is crucial for the President to align the budget with priorities and closely monitor their implementation, a performance management system is being established.
Ghana gives some reason to be optimistic about development in sub-Saharan Africa. It is on track to becoming a middle income nation (as defined by the UN), achieving most of its Millennium Development Goals. Along with ambitious economic projects, Kufuor's government has introduced a national health insurance scheme, reforms to strengthen universal basic education and economic diversification away from reliance on the shaky cocoa market (cocoa was once Ghana's top export). Thomson's work is not only about strengthening accountability to the current President, but also about creating the permanent institutions of governance necessary to support a democratic succession when Kufuor's mandate ends in December 2008. The work dovetails with her ongoing interest in performance management in the UK—pursuits united under the theme, as she puts it, of "making government work in rather different settings."
Thomson believes ambitions for governances such as Kufuor's involve major changes in the relationship between Africans and their governments. "The concept of the state as a service provider is a new one in Africa, and one that's not seen with much credibility," she says. "We have provided some analysis of the state of public services, examined user perspectives and found some predictable results. There remains a lot to be done."
But some major movement is afoot in Ghana, including a national health insurance system which would help treat a fair portion of the citizenry. "It's a simple system," Thomson explains. "People register and pay a modest amount of money, they get a card and are entitled to certain medical services. Universal health care is a huge endeavour but they're making good progress.
"Most Western democracies are moving to what's referred to as 'positive welfare,' where the government develops the capability of its population to make personal choices and deal with the rapid changes brought about by globalization. Positive welfare is about investing in education and health care, and removing obstacles to participation in employment and civil society. It's a shift that seeks more to empower, rather than to ration state-designed goods and income support."
Thomson participated in the 2007 United Nations' Global Forum on Reinventing Government, which brought together over 3,000 delegates. Inspired by some of the same dynamics fueling Kufuor's presidency, many governments are seeking to renew their approach to governance, introducing more evidence-based policy making, and strengthening accountability for on-the-ground delivery to citizens who now expect something personally tangible to come from democracy.
"Often the problems are huge," she says. "These countries face overpowering and overwhelming challenges. The World Bank tells them to diversify their economy, reduce state expenditure and privatize more functions. That's almost too big to even think about, and very difficult to deliver in an electoral system. Taking limits off the price of oil, trying to introduce people to paying taxes … that's not exactly vote-winning material."
Thomson believes that her experience in Ghana and elsewhere enriches her research and teaching at McGill, and brings some fresh perspectives to public service delivery in Canada. "Hands-on international work brings a real authenticity to teaching and research," she says. "Often students will hear a depressing view of Africa, that it's a continent filled with conflict, disease and poverty. I'm committed to portraying a more complex and optimistic picture of the capacity and potential. International experience gives us no reason to be complacent about the standards of performance citizens enjoy in Canada."
Next: The Winds of Democracy