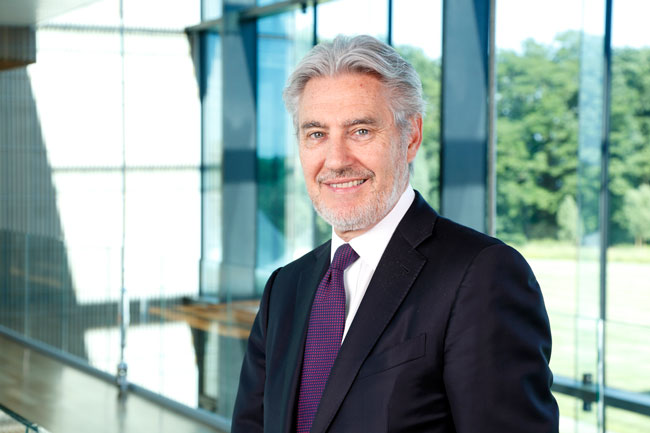 Earlier today, Ferring Pharmaceuticals announced a $2 million donation to McGill to establish the Ferring Fellowships in Health Leadership in the Desautels Faculty of Management in the International Masters for Health Leadership Program (IMHL Program). The donation will also provide support for the renovation of the Desautels Faculty facilities.
In addition, the Ferring Pharmaceuticals Postdoctoral Fellowships in Health will provide support to one or more Postdoctoral Fellows in McGill's Faculty of Medicine pursuing research in the areas of Reproductive Health, Urology, Orthopaedics/Orthobiologics, Gastroenterology or Endocrinology. And, Ferring Canada is continuing its support for research in the Canadian Arctic Ice Buoy Program in the Canadian Arctic Archipelago.
The donation reflects a continuing commitment to McGill dating back to 2009 when Ferring pledged $1 million to support the Arctic Ice Buoy Program, Medicine fellowships and science research. The Reporter spoke with Michel L. Pettigrew, BCom'76, President of the Executive Board and Chief Operating Officer of Ferring.
This donation covers quite a diverse range of initiatives. Why are they all so important to Ferring?
Well, in the first place McGill is a leading international academic institution and Ferring Canada, alongside other businesses in Canada, can only benefit by helping to sustain and strengthen the school.
In addition, giving strong support to science fellowships and post-doctoral fellowships reflects Ferring's commitment to advance science and encourage more young people to move into science and medicine. We believe that more scientific research and the subsequent greater understanding of our life will benefit everyone.
Our support for the Arctic Ice Buoy Program is already established – due in part to the passion our chairman, Frederik Paulsen, has for Arctic exploration and preservation. This recent commitment to Arctic research is therefore a natural continuation of the work already undertaken by Professor [Bruno] Tremblay. We also recognize that research in the Arctic will help to protect our whole global environment.
Finally, as a graduate of the Desautels Faculty of Management, I felt that part of our donation had to go towards supporting the Faculty's new building and providing for a great environment in which students would excel at learning.
What kinds of successes would Ferring like to see emanate from these initiatives?
Being able to encourage a passion for science and medicine in the next generation is an end in itself. We would measure success in the first place by uptake of these new fellowships. We would like to see the generation of some new ideas and broader understanding and, of course, any outstanding outcomes in terms of research or scientific breakthroughs would be fantastic – the icing on the cake.
 How has your experience at McGill informed your career and professional outlook?
The way I recall my time at McGill overall, is working hard – and playing at least as hard. I learned a tough lesson about leaving enough recovery time between playing and working when I was heading off for a computer programming session one morning (bear in mind this was more than forty years ago and we were programming in Fortran – all of it on cards). I was a little tired and heading off for my session with about 500 cards and, you guessed it, I dropped them. I had to start the whole thing all over again.
There were a lot of great faculty members at McGill but the person who possibly left the strongest impression on me was Professor Manfred Kets de Vries. He taught behavioural sciences and had a strong influence on my subsequent management and leadership style.
It was the cultural diversity at McGill that probably had the biggest impact on my outlook. McGill increased my desire to learn about other cultures and, more importantly, it enhanced my determination to seek business opportunities outside Canada.
You remain connected to your alma mater as a member of the Desautels International Advisory Board. Can you tell us why you retain a connection with McGill?
I think the influence the school has on its students' lives is profound. It certainly shaped the way I approached my life and career. So there is an emotional attachment and a strong feeling of gratitude. I also think it's good to give back to those that gave to you in life, where you can. It's good for me as well as for McGill.