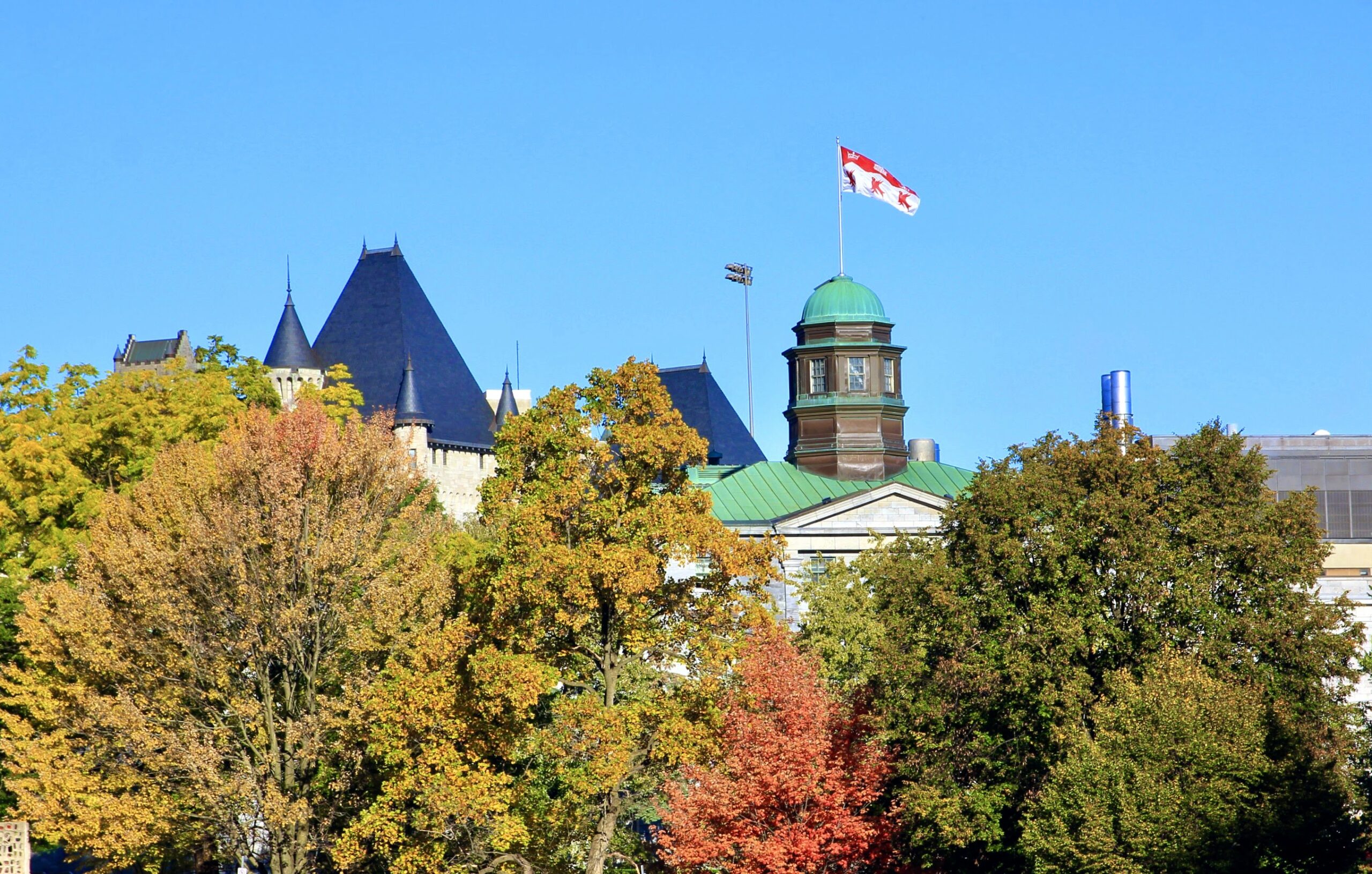 In the Fall of 2021, McGill tasked the Working Group on New Models of Academic Program Delivery with recommending a strategy and direction for the evolution of academic programs at the University.
The group's mission is in line with the University's Strategic Academic Plan, which includes a commitment to openness to new ideas and new technologies to explore innovative paths toward offering the best, most modern and most relevant learning experience possible.
Over the course of the last year, the Working Group, chaired by Prof. Chris Buddle (Associate Provost, Teaching and Academic Programs), has gathered information from peer institutions and has had multiple rounds of consultation with a broad cross-section of the McGill community. The purpose of these sessions was to determine how some of the changes we have made during the pandemic can continue to make a positive contribution to the learning environment, and what other adaptations to our learning models should be explored to best achieve our mission, within the limits of existing constraints.
In light of the feedback received, the Working Group has articulated three main areas that will be addressed in its forthcoming recommendations: blended learning, summer semester offerings and new program development. In addition to developing these three topics, the Working Group continues to engage with various groups at McGill, providing as many opportunities as possible for input before submitting its final report.
Defining blended learning and pathways for its approval
"We've talked about campus life, both among students and stakeholders, and how important that is," says PhD candidate Shanti Nachtergaele, the Working Group's graduate student representative. "What we're really coming away with is that if McGill as a whole is going to incorporate some elements of online learning, it just has to be really done with intention."
The transition to remote delivery that came with the onset of the COVID-19 pandemic forced McGill's academic community to adapt rapidly and implement an array of pedagogical tools that were previously used by few, if any, instructors. Since then, as restrictions eased through time, we have seen some of these pedagogical strategies develop into useful and flexible tools that both instructors and students value and appreciate.
In this context, many members of our community want to continue to explore how to mix some online tools with the traditional in-person teaching; the mixing of methods was coined "blended learning" and it is now becoming part of the new academic reality at McGill and other peer institutions. From the student experience perspective, blended learning means that many of the scheduled course activities would be in-person, but perhaps some specific components are done online in a way that is pedagogically sound and ensures learning outcomes are met.
The Working Group heard many excellent ideas of blended learning across our campuses. For example, many professors spoke of the importance of bringing in a guest lecturer from overseas via Zoom, something that brings value to students and enhances the course.
"It is important – no, essential – that we consider creative ways to enrich the student experience across all our courses. This is particularly important in large undergraduate classes in science, where online tools can complement in-person experiences to provide engagement that can sometimes be more elusive in a large lecture theatre," says Laura Pavelka, a faculty lecturer in the Department of Chemistry and member of the Working Group.
Therefore, the Working Group has identified blended learning as an area that requires clear definitions, and a framework for approval of these content delivery tools, in a way that ensures faculty decision making and autonomy over course content and programs, while ensuring the integrity of the delivery of our programs and the prioritization of the student experience.
This call for a cautious and circumspect approach is a key consideration for the Working Group. "McGill is primarily an in-person institution, and we remain convinced that our campuses are the optimal environment to unleash our full potential, but we are confident that we can move in a balanced way towards integrating new technological tools with the traditional campus life, without compromising the quality of the student experience and the professor experience," says Buddle.
Finally, it is important to note that the Working Group envisions a process by which the approval of specific instances of blended learning will be guided by programmatic needs and analysis, an activity that should be carried out at the unit or Faculty level.
Increasing summer offerings
The second area that the Working Group identified as a priority is considering ways to support additional academic activities over the summer. Currently, McGill offers close to 500 course activities over the summer, as well as other non-credit activities such as intensive language programs.
"Summer represents an interesting opportunity for McGill," says Registrar Gillian Nycum, a member of the Working Group. "We generally have more space on our campuses in the summer, but this must be balanced with other priorities, such as needs around research activities, or perhaps travelling to academic conferences."
According to the information gathered by the Working Group, there may be opportunities to do more over the summer, including offering more credit-bearing activities, perhaps offering introductory courses online in May, or considering short or intensive programs in the summer term.
That said, based on the consultations carried out, it was clear and evident that moving towards a trimester system at McGill (i.e., full academic terms across three semesters including the summer) is not something the community is keen to pursue. The Working Group also heard about the importance of ensuring summer offerings do not interfere with research time or vacations. If there are more summer offerings, these must be resourced properly.
Additionally, a framework to guide the potential increase of summer offerings needs to consider whether these activities would attract new students or provide current students additional opportunities. It is also important that careful coordination with the various offerings already in place in the summer is necessary.
Supporting and facilitating program development
The third area identified as a priority by the Working Group is the ongoing renewal and rethinking of our academic programs. As with all other peer institutions, change in general, and program change can be slow and requires multiple instances of approval. Moreover, the Working Group was quick to recognize that any new program development and changes to existing programs will require specific expertise and should come from the stakeholders of the program itself.
Listening to the valuable feedback received, the Working Group has taken on two main tasks related to new program development.
First, it will recommend a clear and transparent process of program change and development to help guide instructors and units looking to propose the creation of new programs or the revision of existing ones. This process would detail what issues (enrolment, teaching resources, administrative support, etc.) should be considered at each stage of the process, hopefully helping clarify the steps needed to innovate our academic offerings. Second, the Working Group will recommend a support structure to facilitate the task of going through the necessary approvals to create or revise a program.
The objective is to encourage innovation and renewal of programs, leaving it to the specific units and programs themselves to determine the path forward, as they are in the best position to assess the need for and importance of innovation within their respective fields.
The next steps
The Working Group continues to engage with members of the McGill community to ensure that all voices are heard, all concerns are addressed, and that there are no important omissions in the report that is being prepared.
"There is still time to make your voice heard," says Assistant Professor John Mac Master of the Schulich School of Music, "and the very insightful feedback we have received has dramatically improved our workgroup's thinking – for example, balancing interest for innovation with administrative support is of critical importance to faculty members."
In the coming weeks, the Working Group will present a draft of the recommendations to academic leadership, which will also be circulated for feedback more generally across the University. A final report with a series of recommendations will be presented before the end of the winter 2023 term.
Together with existing initiatives such as the new Student Assessment Policy, the Working Group on Student Accommodations, the Accessibility Strategy, the recommendations of the Working Group will lay the groundwork for adapting our learning models to the realities that will shape McGill's Third Century.
These recommendations will contribute to more agile, flexible and responsive models that are consistent with our strategic priorities and allow us to better meet the needs of a diverse range of learners and the imperatives of the new economy, all the while strengthening the service to society that is central to McGill's mission.
To reach the Working Group on New Models of Academic Program Delivery, email newmad@mcgill.ca.