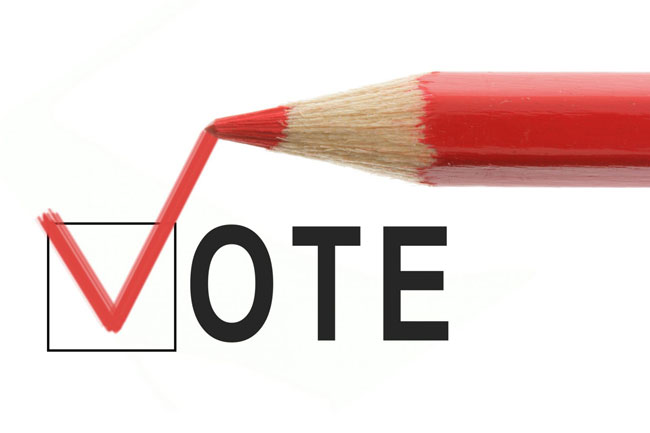 By McGill Reporter Staff
This article was updated on October 19, 2015 to correct some unintentionally misleading information. We apologize for any confusion or inconvenience the original information may have caused.
With the advance polls opening today, the end is finally in sight for Canada's longest federal election campaign in the modern era. The long, sometimes contentious process will come to a close on voting day, Monday, Oct. 19. This year, a new Elections Canada pilot project is aiming to make it easier for university students to participate in the democratic process.
Canadian citizens who come to McGill from outside Montreal now have the option of voting for the candidate of their choice in their home riding. From October 5 to 8, Canadian McGill students will be able to cast a special ballot at one of two temporary Elections Canada offices on the downtown campus:
Memorial Hall (475 avenue des Pins Ouest, next to the Currie Gym)
The Carrefour Sherbrooke residences (475 rue Sherbrooke Ouest)
These offices will be open from 10 a.m. to 8 p.m. Voters will be asked to show two pieces of approved identification, at least one of which has the individual's home address on it (like a driver's license).
There will be a third temporary office near campus, in the Hôtel la Plaza /Ace Bar and Grill reception centre (420 rue Sherbrooke Ouest), next to McGill's Citadelle residence building. There will also be temporary Elections Canada offices at the Dawson and Vanier CEGEPs, the Université de Montréal, Concordia University and the Native Friendship Centre (2001 boulevard Saint-Laurent.) These offices are available to all voters, but are particularly aimed at making voting more accessible to students.
These temporary offices will close after October 8, but students will still be able to cast a special "home riding" ballot at a regular Elections Canada office until October 13; voters can search for the nearest regular office here.
If a student needs to show proof of residence at McGill, he or she can do so through this Minerva link.
Students who wish to vote in the Montreal riding where they currently live can do so either at an advance polling station, from October 9 to 12, or on Election Day, October 19. The addresses of advance or regular polling stations can be found here. Please note that, although there are two stations on campus, you can only vote at the station indicated on your voter registration card. If you are not registered or wish to update your registration, you can do so onsite at the appropriate polling station.