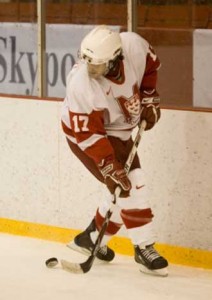 Both the McGill Redmen and the Martlets notched big wins on Wednesday night in the opening game of the respective playoff series. While the undefeated Martlets surprised no one with an easy victory over the Concordia Stingers, their male counterparts made people take notice with a upset win over highly ranked Université du Québec à Trois-Rivières.
The Redmen shocked fifth-ranked UQTR 3-1 to take the opener of the OUA East Conference best-of-three final series at Le Colisée in Trois-Rivières, on March 4. The team scored all three goals on the power play with Leonard Verrilli netting the winner at 18:04 of the first period.
Although McGill came out of the first period with a 2-0 lead, it was rookie netminder Kevin Desfossés who slammed the door shut on a UQTR team that looked dangerous all night. The freshman made 19 saves in the opening stanza and 32 overall. Desfossés's bid for a shutout was ruined when UQTR's Etienne Bellavance-Martin scored at 6:42 of the third period.
McGill is one victory away from qualifying for the CIS national championships. They could wrap up the series in their final home game of the season on Friday at 7 p.m. and a capacity crowd is expected at McConnell Arena.
Martlets soar
One the women's side, the Martlets continued their winning ways with a resounding 11-2 rout of cross-town rival Concordia in the opener of a QSSF women's hockey best-of-three semifinal series at McConnell Arena on March 4.
Leading the charge offensively for the #1 ranked Martlets was Ann-Sophie Bettez and Marie-Andrée Leclerc-Auger, with both players notching hat tricks.
The Martlets, who won for the 27th consecutive time against Concordia, also extended their win streak against Canadian university opponents to 48 games.
The defending national champions led 4-2 after the opening period, 9-2 after two and outshot the Stingers 50-17, with goaltender Charline Labonté picking up the win and Audrey Doyon-Lessard taking the loss. The Martlets went 5-for-8 on the power play, while Concordia was 1-for-4.
Game 2 of the series will be on Friday (7:30 p.m.) at Concordia's Ed Meagher Arena. If a deciding game is needed, it will revert back to McConnell Arena on Sunday afternoon at 1 p.m.