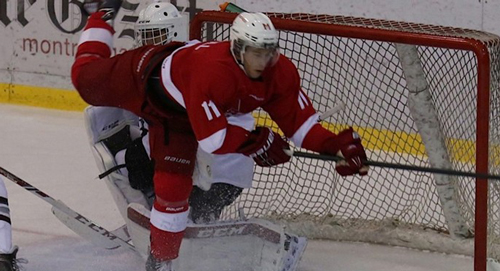 By Earl Zukerman
Cedric McNicoll tallied the deciding marker in an overtime shootout as the No.4-ranked McGill men's hockey team rallied for a 4-3 victory over the Brock University Badgers at the Seymour-Hannah Sports & Entertainment Centre in St. Catharines, Ont., Friday.
The Redmen enjoyed a 37-20 advantage in shots en route to posting their fifth consecutive victory.
Brock had taken a 2-0 first-period lead on a pair of goals by Kaine Geldart but McGill rallied with three unanswered goals in the middle frame. Freshman defenseman Samuel Carrier sparked the comeback at the 48-second mark with his first career goal at the collegiate level.
Rookie Carl Gelinas knotted the score at 10:33, followed by Marc-Olivier Vachon's go-ahead goal at 19:31.
The Badgers tied the count at 3-3 in the third period when Jordan Gignac beat McGill netminder Andrew Flemming at 3:47.
After a scoreless overtime session, Andrew Radjenovic gave Brock an early lead in the shootout but Carrier and McNicoll replied on McGill's next two shots. Flemming stopped Dan Tanel and Gilbert to collect the win. The native of Quispamsis, N.B., was credited with 17 saves en route to improving his record to 4-1.
Dalton McGrath took the loss for Brock. He made 33 saves and saw his record fall to 4-3.
McGill was 0-for-7 on the power-play, while Brock went 2-for-4.
The Redmen will conclude their long road trip in Toronto on Saturday when they take on the York Yeomen in a 7 p.m. puck drop. The game will be streamed live at: www.ssncanada.ca
REDMEN RAP: The win avenged a 3-2 overtime shootout loss in the last meeting between these teams, on Nov. 20, 2010 in St. Catharines… The Redmen improved to 23-4-2 lifetime against Brock, outscoring the Badgers 138-71 since the series rendezvous in 1988… McGill owns an impressive 11-2-1 road record against the Badgers… Redmen rearguard Ryan McKiernan was kept of the scoresheet for only the second time this season, snapping his point-scoring streak at eight games.