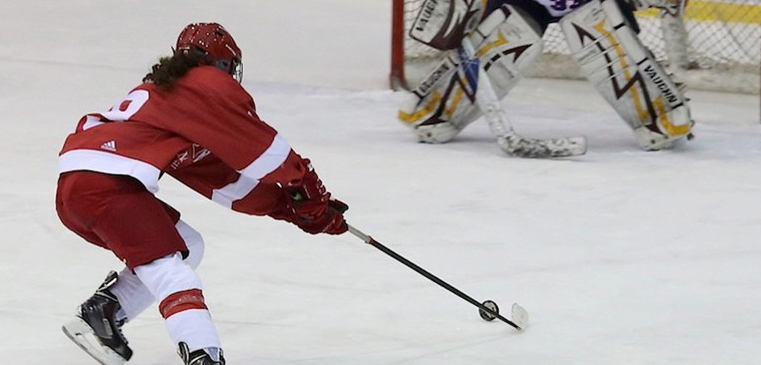 By Earl Zukerman
Katia Clement-Heydra scored the game-winner and set up another as the top-ranked McGill women's hockey team tripled Carleton 3-1 at the CU Ice House, Saturday.
Dating back two years, it marked the 38th regular season victory for McGill, which is 17-0 against CIS teams this season, including a 12-0 mark in regular-season play. Their last in-season loss was a 4-3 overtime shootout decision to the Ravens on Jan. 22, 2012. Since then, the Martlets have posted 14 straight wins over Carleton.
Rookie Gabrielle Davidson tallied her CIS-leading 16th goal of the season to break a scoreless draw on the power-play at 12:41 of the second period
Early in the final stanza, Clement-Heydra finally gave the Martlets some breathing room when she connected for the winner, with her ninth of the campaign at 2:16. It marked the 150th career game in a McGill uniform for the industrial relations senior from St. Bruno de Montarville, Que., who owns a lifetime overall record of 93-125-218. This season, she sits fourth in the CIS scoring race with 9-16-25 in just 12 contests.
Chelsey Saunders assured the victory when she made it 3-0 on the power-play at 11:28.
Carleton broke the shutout bid less than two minutes later, however, when Julie Vaillancourt scored on goaltender Brittany Smrke at 13:26. Smrke, who entered the game midway through the second period, was credited with 10 saves and the victory, improving to 2-0 on the season. She took over in a planned move for Martlets starter Taylor Hough who kicked aside all nine shots faced in 30 minutes and 35 seconds.
McGill had a lopsided 52-20 edge in shots as Carleton's Tamber Tisdale made 49 saves in a losing cause and dropped to 0-5.
The Martlets were strong on special teams, going 2-for-6 on the power-play and erasing all three shorthanded situations. McGill's power-play unit is currently ranked second in the nation, operating at 27.0 per cent efficiency with 20 goals in 74 chances.
McGill (12-0-0) remained in the nation's capital to take on the third-place Ottawa Gee-Gees (6-7-0) in a Sunday matinee, a game slated to be webcast live at 2 p.m. on SSN Canada.