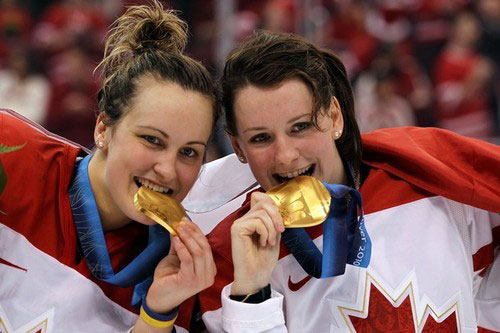 By Earl Zukerman
Catherine Ward, a two-time Olympic gold-medalist and former all-star defenceman with the McGill women's hockey program, was among three players announcing their retirements from Canadian women's national team, Thursday.
She is hanging up her skates along with Jayna Hefford, a 38-year-old forward from Kingston, Ont., and forward Gillian Apps, 31, from Unionville, Ont. The three women did not play for Canada last season as they stepped away from hockey and pondered their futures.
Ward, who hails from the Town of Mt. Royal, a borough in Montreal, joined the national team in 2008 and tallied seven goals and 36 assists in 77 games wearing red and white. A quick-skating, puck-moving rearguard she quickly developed into one of Canada's top defenders and a team leader. Ward was an assistant captain at the Sochi Olympics, where she was credited with one assist in five games and led Canada in minutes played, averaging over 24 minutes per contest.
During her three seasons at McGill, she captured CIS rookie-of-the-year honours in 2006-07 and was a two-time All-Canadian blueliner, helping the Martlets win a pair of CIS national titles. After graduating in 2009 with a commerce degree in only three years, she went on to play the 2010-11 season at Boston University, where she earned an MBA, merited All-American second team honours and helped the Terriers reach the championship game of the NCAA Frozen Four.
At 28, Ward has more years of elite international hockey in her, but she landed a dream job last year as an assistant product manager for sticks with the equipment company CCM.
"Pretty lucky to be able to combine business and hockey together," Ward told The Canadian Press. "My academics and my career have been among my priorities and obviously sport was, hockey was. I was able to achieve my dreams in hockey, but I have other dreams with my career. It's hard to let go at my age, but at the same time I need to prepare for what's next."
She will become eligible for induction to the McGill Sports Hall of Fame in 2019, a decade after her last season with the Martlets.