Professor Ehab Abouheif is a recipient of a prestigious Guggenheim Fellowship. The U.S.-based John Simon Guggenheim Memorial Foundation announced its newest fellows on April 7, 2017. Abouheif is one of only three Canadians among the 173 recipients.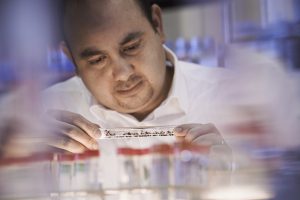 Abouheif is a James McGill Professor in the Department of Biology, a Canada Research Chair in Evolutionary Developmental Biology and a co-founder of the McGill Centre for Islam and Science.  In 2012, his lab discovered that genetic "supersoldier" potential can lay dormant in ants for millions of years – but can be unlocked by applying high doses of hormone at a critical stage in the larvae's development. The discovery is changing traditional thinking about dormant genetic potential in other animals (such as bird's teeth and snake's fingers) and how, once triggered, they can act as raw materials for adaptive evolution. The implications for harnessing dormant genetic potentials include medical advances, biodiversity conservation, and animal or plant breeding.
Abouheif's research has also earned a Sloan Fellowship and the NSERC E.W.R. Steacie Award, Canada's highest honour for a young Canadian scientist. Last year he was elected to the Royal Society of Canada's College of New Artists, Scholars, and Scientists.
The Guggenheim Fellowship will help Abouheif support students and postdoctoral researchers.
Since 1925, the Guggenheim Foundation has granted more than $350 million in fellowships to more than 18,000 individuals. The  fellowships recognize individuals "who have demonstrated exceptional capacity for productive scholarship or exceptional creative ability in the arts." Many Guggenheim laureates have gone on to win Nobel Prizes, Fields Medals, Turing Awards, Pulitzer Prizes and other internationally recognized honors.