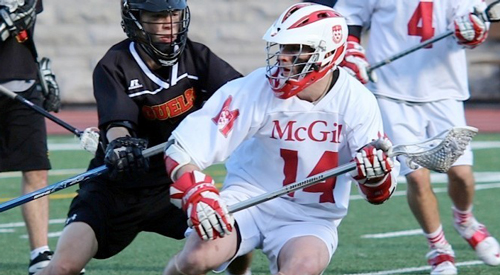 By Earl Zukerman
Brett Ulbikas, a freshman from Oakville, Ont., scored five times and tournament MVP Ryan Serville of Pickering, Ont., added four goals and four assists as Guelph stunned McGill 14-11 to capture the Baggataway Cup, as champions of the Canadian University Field Lacrosse Association, Sunday.
The national final was played before a crowd of 535 at Molson Stadium.
It was the fourth CUFLA banner for the Gryphons – their first since 2008 – and their third upset in as many days. After finishing third in the CUFLA West Division, Guelph became only the third team in CUFLA's 28-year history to claim the coveted crown with back-to-back-to-back sudden-death victories. The six-team tourney is structured so that the four lowest-seeded teams must play a quarter-final on the opening day, while the two CUFLA division winners (McGill and Brock), receive a first-round bye. The last team to win the title with three wins was Bishop's in 2011.
Guelph, which posted a 9-3 record during the regular season, knocked off Bishop's 12-10 in Friday's opener and upset Brock, the West Division pennant winners, 14-9 on Saturday.
"At this level, playing three games against teams as tough as we faced, is a monumental task," said Sam Kosakowski, in his 20th season as head coach of the Gryphons, a team he initiated and played for in the mid-1980s. "The guys had it in their hearts and somehow found the energy wherever they could find it.
"We had a tentative, shaky start and that was to be expected as it was our third game in three days. But once we got going, things started to click and we figured it out. The history of this team has been, once we figure things out, things start to work."
McGill led 4-2 after the opening quarter but the Gryphons roared back to tie the score at 6-6 heading into the intermission. Guelph outscored the Redmen 4-2 in the third quarter and 4-3 in the final stanza.
It was a bitter pill to swallow for the Redmen, who had won 19 consecutive games against CUFLA opponents dating back to last season, when they captured their first national championship with a last-second, 7-6 double-overtime victory over Western in Peterborough, Ont.
"They have some amazing offensively-gifted players, particularly Serville, who is probably the best shooter in the league," said Tim Murdoch, who has posted a 116-71-2 career record in 189 games over his 11 seasons as head coach of the Redmen. "We had a couple of defensive lapses in our system and they were good enough to exploit us. I felt like we had some good momentum toward the end of the game but with a four-goal gap, you're not going to catch a team like this. They're just too strong… a helluva team and the best we've played this season. They are deserving champions."
Jordan Critch of Orangeville, Ont., and Curtis Knight of Oshawa each potted a pair of markers and Toronto native Connor Deuchars was the other marksman for the winning side.
Leading the way for McGill was Connor Goodwin of New Westminster, B.C., with a hat-trick and assisted on three others. Two goals apiece went to Kevin Donovan of Bethany, Conn., Leland de Langley, also from Orangeville, and Anders Bjella of Milwaukee. Rounding out the scoring for McGill was Tayler Sipperly of Charlotte, N.C., and Rhys Burnell of Abbotsford, B.C.
Ulbikas and Goodwin were named as the Game MVPs for their respective teams, while Guelph's Benjamin Vangalan of Orangeville was named as the Harrow Sport defender of the game.
Goaltender Jeremy Snider, a fifth-year senior from Kitchener, Ont., collected the victory between the pipes for Guelph, while Riley McGillis of Peterborough was saddled with the loss.
"This was easily the best Baggataway tournament that CUFLA has ever had since I've been involved dating back to 1985-86," said Kosakowski." McGill has done a spectacular job in the way they treated the athletes, coaches and fans. They did a fantastic job."
The game was delayed for about 30 minutes when Guelph freshman Cooper Catt of Aurora, Ont., stayed down after a heavy collision to his neck area. He was dispatched to hospital in an ambulance.
"I think he's going to be OK," said Kosakowski. "He was moving his hands and his feet. He was talking and joking. He was hurt but I think it was a precautionary measure to send him to hospital."
The Redmen, who went 10-0 during the regular season, are only expected to lose only four players to graduation from a 41-man roster, two of them starters. Seniors not expected to return include co-captains Osburn Long and Brandon McLean, along with James Vickery and Conor Barker.
"If there's any silver lining in this loss, it's that the (returning) guys are extremely hungry and now know how hard it is to win a championship," said Murdoch, who accepted the part-time post of head coach back in 2003. "We're anticipating having 37 of 41 players returning and we're going to reload with some good recruits. I think that we will be the team to beat next year."
NOTES: Among the faces in the crowd over the weekend was CUFLA Commissioner Ryan McGrath, a former McGill player, and Sachin Anand, who founded the team in 2001 and served as a player coach for two years until he convinced Coach Murdoch to take over the helm… Baggataway is a native term to describe the type of lacrosse that was first played by the Ojibwe tribe, which pronounced it as "baaga`adowe."