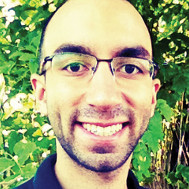 grant macneil
::::::::::::::::::::::::::::::::::::::::::::::::::::::::::::::::::::::::::::::::::::::::::::::::::::
AGE: 21
HOMETOWN: LONG SAULT,
ONTARIO
MAJOR: BIOCHEMISTRY
INTERNED AT: PERKINELMER
FAVOURITE PIECE OF LAB EQUIPMENT: "AUTOMATIC MULTI-DISPENSE PIPETTE. IT SAVES SO MUCH TIME, IT'S MY BEST FRIEND AT WORK."
For Grant MacNeil, an Honours biochemistry, there's an easy answer to the question "Sports or science?" Both. Growing up, he could be found between the pipes for competitive AA minor hockey and Junior B teams, and he still plays intramural hockey at McGill. He's also currently in his second season as assistant coach for the Hurricanes de Montreal "Peewee BB" team, an avid runner and a pretty good golfer ("Some days better than others"). On top of all this, there's science.
This past summer the chemistry whiz completed his second 16-week internship with PerkinElmer, a life sciences tools and services provider located in Montreal's Griffintown neighbourhood. MacNeil assisted in developing experimental protocols for AlphaLISA — technology that
examines cellular and biochemical functions of biomarkers and analytes including proteins, lipids, and cytokines.
The process, he says, "is much faster with far less assay variation " than the current commonplace analytical techniques, such as enzyme-linked immunosorbent assay, western blotting or immufluorescence — and may help scientists better understand how the behaviour of cell proteins can lead to disease and disorders.
"My project could help clients like academic researchers, pharmaceutical companies or biotechnology industries find the best therapeutic drug using an experiment that is quicker and more sensitive than other commonly used methods," MacNeil says.
His summer work doesn't only have real-world relevance — it's also directly related to MacNeil's field of study. "It is refreshing to see how to work with these molecules outside the classroom, where I have heard all about their cellular activities and pathways, but rarely had hands-on experience," he says.
MacNeil also says that the lab experience will be useful in his future career as a dental surgeon. "It has given me invaluable confidence when working with fragile and very expensive material," he explains.
"Like your teeth."