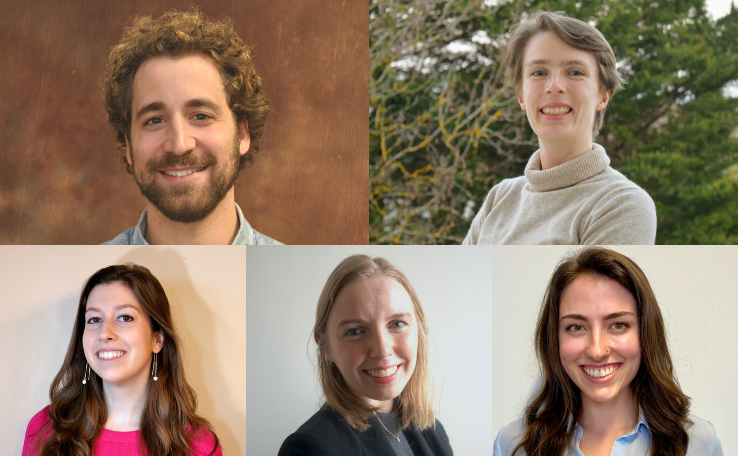 On March 18, McGill announced the first-place winners of the annual Three Minute Thesis (3MT) and Ma thèse en 180 secondes (MT180) competition. Trevor Cotter, a PhD student in the Department of Mechanical Engineering, will advance to the Canadian Association for Graduate Studies (CAGS) Eastern Regional Finals, while Auriane Canesse, a PhD student in Physics, will be moving on to the Association canadienne-française pour l'avancement des sciences (ACFAS) MT180 national finals. Both students will now compete against candidates from across Canada for recognition of their outstanding public speaking abilities.
Every year, McGill's Department of Graduate and Postdoctoral Studies holds the 3MT/MT180 competition in collaboration with SKILLSETS. The competition, which began in 2008 at The University of Queensland, challenges graduate students to present dissertation research before a non-specialized audience and panel of judges in only 180 seconds (or less), using a single, static slide.
From the record-breaking one hundred and fifty students who signed up for the competition, fifteen students were chosen to move on to the finals after a challenging round of heats, representing six faculties and twelve departments from across McGill. The final competition event was livestreamed publicly on YouTube, where audience members were able to watch the presentations in real time and vote for the People's Choice Award. To date, the video has garnered over 1,900 views online.
From spinal surgery to colliding protons
Cotter's award-winning 3MT presentation, Spine Surgery: As Easy as Landing a Plane, highlighted the possibilities of using physics-driven surgical simulators to train spine surgeons – a prospect that impressed both audience members and judges alike. He expressed how, for him, "the most challenging thing about the competition was trying to compete with so many amazing presenters. They really forced me to think about my engagement and presentation skills much more critically than I had before."
Meanwhile, Auriane Canesse's presentation Observation d'un boson W et de deux photons produits dans des collisions de protons, shed light on a very different topic: What can happen at a subatomic level when protons collide at close to the speed of light. "Particle physics is a subject completely disconnected from people's everyday life. It's not relatable and rather complex, so the most challenging part of the MT180 competition was introducing the context of my research in such a short time, and making people care about it," she noted.
Both speakers were assessed by a panel of four judges on the basis of the content and delivery of their presentation, as well as the clarity of their supporting slide.
Thought-provoking presentations
Neither first-place finalists came to their titles easily; second and third-place runners up, Ida Derish and Natasha Jacobson, both gave the judges plenty to discuss.
Derish, a second-year Master's student in Experimental Surgery, spotlighted her research on the new methods she is exploring for using stem cells in heart regenerative therapies. When asked, Derish admitted that "it was an interesting process to dismantle all the preconceptions I had about my own research, to only keep it at its bare essentials, but to still keep that same passion – in order for other people to become equally invested in what I do." Her presentation distinctly outlined her enthusiasm about the future practical possibilities of her research for people who have suffered life-altering heart attacks.
Similarly, Jacobson, the third place winner and PhD student in Mechanical Engineering, delivered a compelling presentation on designing new medical devices to improve the treatment and diagnosis of patients suffering from incontinence – a reality, she emphasized, is experience by one in ten Canadians at some point in their lives.
Both students managed to articulate their research with ease, while clearly calling attention to the innovative nature of their work.
Finally, Lysanne Desharnais won the hearts of audience members, receiving the People's Choice Award for her demonstration of how diet and obesity influence immune-based therapies in lung cancer. "I think it's important to ensure that your presentation contains something that your audience can relate to," she wrote. "It's easier to keep your audience engaged if they see how your research could impact their life, or the life of someone they know."
Virtual showcase of McGill talent
As with most recent events, this year's competition took place virtually, and the finalists demonstrated perseverance and bravery in light of the unique challenges of competing in a remote context. Considerations like internet speed, background noise, and camera positioning became part of the orchestration of an award-winning thesis presentation for the first time in the competition's 10-year history at McGill.
All of the competition trainings also took place on Zoom, which presented new obstacles for the organizing team; virtual platforms and technical solutions (including a myCourses training module) became essential to planning and implementing a successful online event. Nevertheless, organizers were thrilled to discover this year had the highest rate of pre-event RSVPs on record, signalling successful outreach efforts to teaching staff, alumni, students and program directors.
The 3MT/MT180 competition is always a showcase of McGill's brightest student talent, and this year was no different. In taking on this challenge amidst pandemic upheaval, the 2021 finalists proved their dedication to their research and to sharing it with both the McGill community and the world at large. You can learn more about 3MT/MT180 here; registration for the 2022 competition will open in Fall 2021 for all eligible graduate students.