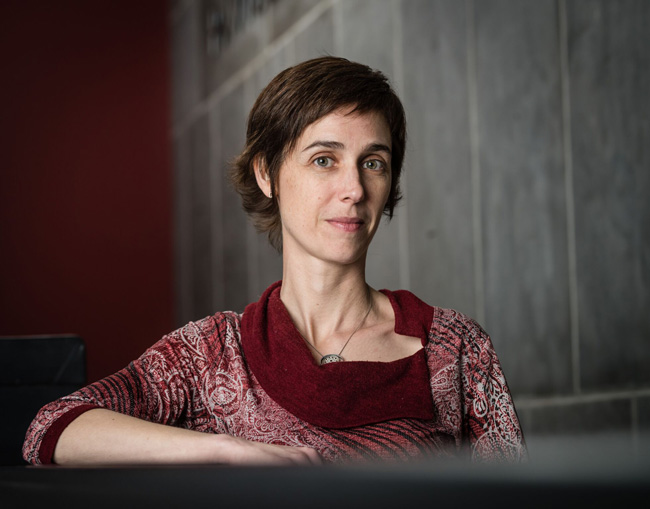 Today, the Rideau Hall Foundation announced the six exceptional Canadian recipients of the Governor General's Innovation Awards. Among those honoured for excellence in innovation and contributions to society is McGill Professor and William Dawson Scholar Joëlle Pineau. Selected for her leadership in the innovative applications of Artificial Intelligence (AI) and machine learning to the field of personalized medicine, Pineau was nominated for the award by the Natural Sciences and Engineering Research Council (NSERC).
Pineau co-directs the Reasoning and Learning Lab at McGill with Professors Prakash Panangaden, Doina Precup and Jackie Chi Kit Cheung. Since 2017, she has led the Facebook AI Research lab in Montreal, the first of its kind in Canada.
Speaking from the UK, Pineau said that, "winning the Innovation Award is a huge honour and it is wonderful to see our government recognizing the impact of science. Yet, there is so much more to do in our efforts to apply AI and machine learning innovations to improve the lives of people impacted by severe mobility impairments and diseases like epilepsy."
User-friendly wheelchair
Pineau is renowned as a pioneer in the development of algorithms to handle a special set of mathematical problems, known as partially observable Markov decision processes. She has applied her research to the challenge of developing personalized and robot-assisted health assistants, including the design of an intelligent robotic wheelchair (the Smartwheeler).
Together with colleagues at McGill, Pineau has also explored the application of reinforcement learning techniques in the treatment of cancer, specifically, to improve adaptive radiation dosage using a combination of computational modelling, cell cultures and animal models of carcinogenesis.
Earlier in her career, she established a collaboration with researchers at the Montreal Neurological Institute (The Neuro), where she pioneered reinforcement-learning techniques to optimize neurostimulation technology to reduce epileptic seizures. In later research, she focused on developing new methods to learn adaptive pharmacological treatment strategies for mental health conditions such as depression and schizophrenia.
"Nexus of social responsibility"
"McGill's research community joins me in delivering enthusiastic congratulations to Dr. Joëlle Pineau, winner of the Governor General's Innovation Award in 2019," said Martha Crago, Vice-Principal, Research and Innovation. "Dr. Pineau's leadership in the innovative application of Artificial Intelligence and machine learning to personalized and robot-assisted health care is shaping the future of the field, and creating a nexus of socially responsible AI research activity at McGill, in Montreal and beyond."
Pineau's Innovation Award represents the first for a McGill researcher. In 2018, the 2016 laureate company Kinova initiated a partnership with McGill to foster innovation in robotics technology.
Pineau will receive the award from Her Excellency the Right Honourable Julie Payette (BEng86), Governor General of Canada, who will present the awards to the winners at a ceremony on May 29 in Ottawa.