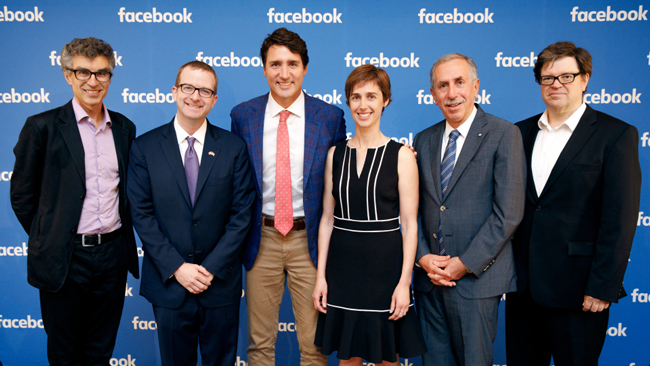 By McGill Reporter Staff
Facebook is opening its first artificial intelligence (AI) lab in Canada right here in Montreal and Joëlle Pineau, a leading woman in computer science at McGill, has been named head.
Pineau is co-director of the Reasoning and Learning Lab. Her work focuses on developing new models and algorithms for planning and learning in robotics.
The announcement was made by Yann LeCun, Chief AI Scientist at Facebook, before a full house at the McGill Faculty Club. Also on hand for this major announcement were Prime Minister Justin Trudeau (BA,'94), Principal Suzanne Fortier, federal Science Minister Kirsty Duncan, Quebec Minister of Economy Dominique Anglade, Montreal Mayor Denis Coderre, Martha Crago, Vice-Principal of Research and Innovation, and many others.
Pineau told those assembled that she wanted to join the Facebook AI Research (FAIR) lab because she is interested in basic research and an open and collaborative approach between the public and private sectors. "With the opening of FAIR Montreal, I look forward to being able to offer new opportunities for attracting and retaining the brightest AI talent in Canada," she said. "I have seen far too many talented colleagues and students leave Montreal. This new lab will keep them here, and perhaps even bring some back."
Prime Minister Trudeau told the crowd that creativity is the engine of the new economy. "Artificial Intelligence is already part of our lives and our children will become users of FB in the future. Our scientists were pioneers in the world of AI," said Trudeau. "The new lab is a vote of confidence in Canada and Canadians, and the federal government is very pleased to see this go ahead."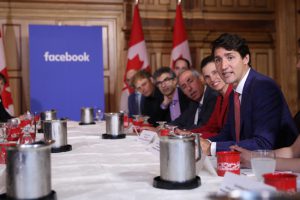 LeCun says Facebook was attracted to Montreal because there is an ecosystem of AI work being done here that has a snowball effect. "FaceBook chooses locations because of talent, we are attracted by talent. Our new research lab will partner with McGill and the University of Montreal, with a foot in industry and academia," he said. "We will practice open research and open source science. We publish everything we do."
The FAIR Montreal lab is already open, with the goal of having 20-30 researchers by next year. It's one of four FAIR labs. The others are in Silicon Valley, Paris and New York. Montreal's FAIR lab is only the second one outside of the U.S.
Principal Suzanne Fortier praised Pineau, saying "Professor Pineau's cutting-edge research is an integral component of Montreal's strong AI research ecosystem. Her Lab is developing algorithms designed to shape the behaviour of robots and machines so that they better respond to human needs."
Pineau is a founding member of two multi-disciplinary ventures that led to the development of robotic assistants for elderly and disabled individuals: the Nursebot platform and the SmartWheeler initiative. Pineau has developed unique robotic and artificial intelligence expertise to address chronic disorders using clinical data.
Angelique Manella, Associate Vice-Principal of Innovation believes Pineau is the perfect person to head the lab.
"I think Joëlle is an amazing choice to head up Facebook research. I couldn't think of a nicer person, a greater researcher." says Manella, herself an accomplished computer programmer, social entrepreneur, and marketing strategist. "I'm very pleased that we will have a leading woman in AI research heading up the operation. It's a great opportunity and it will be inspiring for many women looking to enter technical fields."
Facebook is coming to Montreal as part of its overall investment in the Montreal AI community. Montreal has become a hub of AI research and start-ups, and has been christened by some observers as the "Silicon Valley of the North."
Facebook is one of the most advanced technology research institutions in the world. Their scientists and researchers are trying to imitate human intelligence by getting computers to think more like the free form associative human brain and less like machines.
Facebook already uses AI to provide captions for videos, and help visually impaired user to "see" by describing photos. AI is used by Facebook to remove spam and other objectionable content.
With 2 billion monthly active users Facebook is part of a lot of people's lives, especially Canadians. Canadians are the most active Facebook users in the world. More than 19 million Canadians are now logging onto Facebook at least once every month — that's more than half the population — while 14 million check their newsfeed every day.