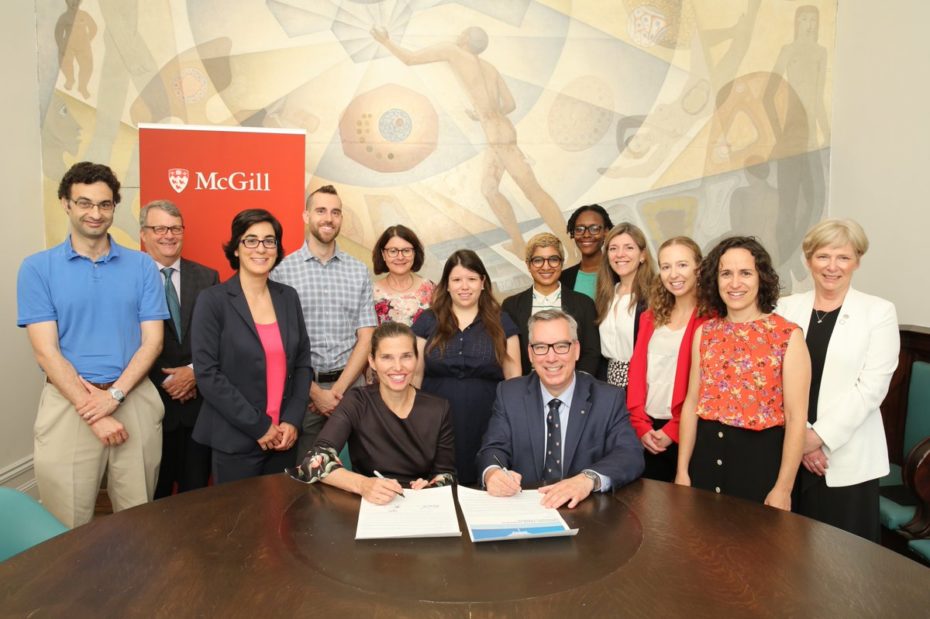 In conjunction with a $35 million research funding announcement to support 128 researchers through the Natural Sciences and Engineering Research Council of Canada's (NSERC) Discovery Grants program, Canada's Minister of Science and Sport, Kirsty Duncan, was on campus today to sign the Dimensions Charter.
Dimensions is a pilot program designed to address obstacles faced by, but not limited to, women, Indigenous Peoples, persons with disabilities, members of visible minority and racialized groups, and members of LGBTQ2+ communities. McGill's Principal Suzanne Fortier recently endorsed the Charter and today Vice Principal (Administration and Finance) Yves Beauchamp joined Minister Duncan for a signing ceremony.
"McGill is proud to join the growing group of Canadian universities committed to ensuring that opportunities for studying and working in postsecondary institutions are open to all," said Suzanne Fortier, Principal and Vice-Chancellor. "By endorsing Canada's Dimensions Charter, McGill's academic community recognizes that inclusivity and engagement of individuals from the widest range of backgrounds, perspectives and experiences leads to enhanced innovation and creativity in research."
Minister Duncan launched the pilot program and unveiled the Charter on May 9, in Waterloo, Ontario. The program includes a grants program valued at $5.3 million to help universities in their efforts to create an inclusive research environment.
Funding for Discovery Research
Minister Duncan was also on campus today to announce $35 million in NSERC Discovery Grants for McGill, stemming from the $4 billion for research committed in Budget 2018. Discovery Grants allow researchers the flexibility to pursue promising research avenues as they emerge. Applicants are encouraged to increase the inclusion and advancement of women and other under-represented groups in the natural sciences and engineering.
Speaking at the announcement, grant recipient Professor Nathalie Tufenkji said that, "funding from the NSERC Discovery Grants program has been critical in supporting my team's fundamental research over the past 15 years, and has enabled a myriad of discoveries, collaborations and training opportunities towards growing a diverse community of scientists."
Tufenkji's team is studying the impacts of microplastic and nanoplastic pollution in Canadian soils and waters. The outcomes of this research will support environmental risk assessments and the development of regulatory guidelines by government agencies in Canada.
"McGill is grateful for the significant and flexible funding for fundamental research programs provided by NSERC," said Martha Crago, Vice-Principal, Research and Innovation. "Thanks to the Discovery Grants program, McGill's impressive cohort of researchers pursue varied research topics, from the burgeoning field of 'tailor made' quantum matter to studies of how biological diversity is responding to climate change."