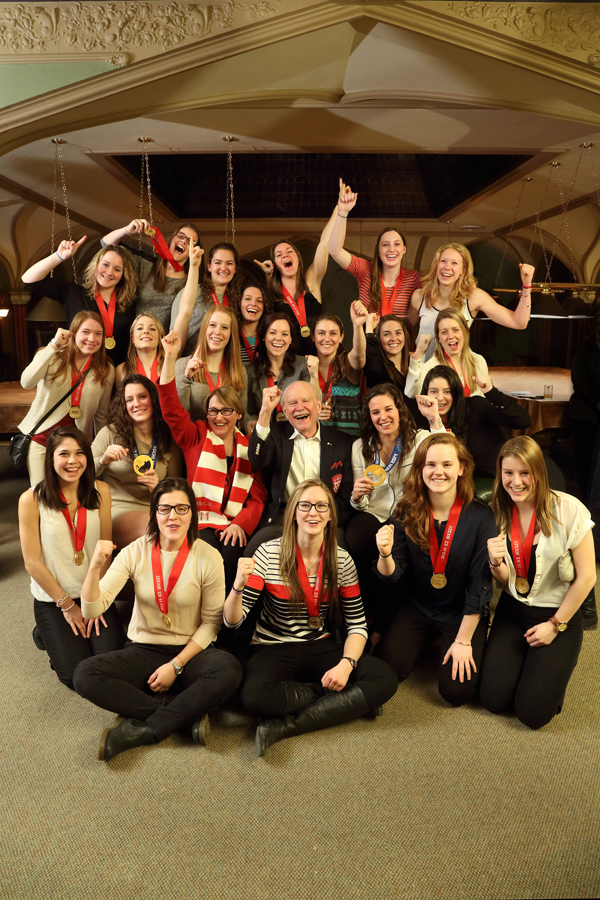 Perhaps no sports team has a more suitable name than McGill's hockey Martlets – named after the mythical, legless bird that is destined to soar forever. On February 20, three products of the Martlet hockey program (Mélodie Daoust, Catherine Ward and Charline Labonté) won Olympic gold in Sochi, Russia, with a heart-stopping 3-2 win in overtime over their arch rivals from the U.S. Three weeks later, the Martlet hockey team won its fourth CIS title, beating the top-seeded Uuiversité de Montréal Carabins 4-3 in double overtime. As with their mythical namesake, these high-flying Marlets might never come down to Earth.
Recently, Principal Suzanne Fortier and Chancellor Arnold Steinberg hosted a special reception at the Faculty Club to celebrate the accomplishments of McGill's hockey heroes. The entire Marlet team – including coaches – was on hand, as well as Olympians Daoust and Ward, with everyone sporting their gold medals.
"I know these accomplishments don't just happen by themselves," said a smiling Fortier, wearing a red and white McGill scarf. "They are a result of a lot of hard work and dedication… I think it is very brave of you to put yourself up against that level of competition and to respond so well. We are all inspired by you."
Overtime wins against arch rivals
And how could one not be inspired? Both the Martlets and Team Canada won their respective championships against their biggest rivals, teams that came into each tournament as favourites. Both games were thrillers decided in overtime, with the Martlets fighting back after squandering a 3-1 lead in the third period.
"In the playoffs I felt like if we went down by a goal or two, we would lose our structure a little bit," said Darragh Hamilton, one of four graduating players who ended their Martlet careers as CIS champions. "It was the total opposite in the final. When [the Carabins] scored those goals to tie it up in the third, there was total silence on our bench for about a minute and then we started picking each other up. We were all super positive – we knew we had this game."
Although the end was the same for Team Canada – an overtime win in the decisive game – the road to gold took a much different path. Down two goals deep into the third, Canada scored twice in the final 3:26 of regulation and suddenly the gold that had been slipping away was within reach again.
"We never lost confidence, even when we fell behind 2-0," said Ward, a former Martlet and a standout defenceman for Team Canada. "We had trained so hard all year and were in great shape. In the locker room before the beginning of the first overtime there was a real feeling of confidence. We kept saying 'We have the momentum. We can do this.'"
Supporters share in the success
Unwavering support, both in spirit and in the stands, was a recurring point of discussion at the reception. When asked about their respective squad's successes, Olympians and current Martlets alike were quick to expand the definition of team.
"We want to thank McGill and everyone who was supporting our team following our team during the playoffs and in the championship. You have no idea how much the support means to us," said Hamilton. "When Brit Fouracres scored [the game-wining goal in overtime], it was perfect because all our fans were in that end of the rink. As soon as she scored, we huddled together and all of our parents and supporters were right there too on the other side of the glass. It was pretty incredible."
A similar story played out in Russia, at the Winter Olympics in Sochi. Lise Ward, Catherine's mother, said even among the group of Team Canada parents who travelled to the Games, there was a spirit of camaraderie. "We had a great group of parents," she said. "Even though you're there to support your child, nobody was cheering more for one than the other. It's all about the team.
"We were very near the American parents and you could see they were really expecting the gold medal," she continued. "And when we won, it was one of the highlights of my life."
High praise from astronaut Payette
A number of McGillians, past and present, were on hand to congratulate the players and coaches for their golden performances, including astronaut Julie Payette (B.Eng '86), who paid tribute to the players. "There are a lot of similarities between astronaut training and training for high-performance sports," Payette said. "You train for this without the limelight, without anyone watching – painfully at times with a lot of drawbacks and challenges. You work in the shadows for years, but do it because you are pursuing the goal of being the best.
"When you're picked to be an astronaut, they come and take your picture and ask you a few questions and then they disappear from your life," Payette continued. "And there you are training in the shadows again to prepare yourself for that moment… when they suit you up and you take that long walk to the space shuttle and you have to deliver in front of the whole world. I may not be an Olympian, but in my books, you're all astronauts."
In a reception that was wall-to-wall smiles and laughter, few people looked more thrilled than Chancellor Arnold Steinberg when Mélodie Daoust hung her hefty gold medal from Sochi around his neck. Addressing the gathering, the Chancellor spoke passionately about the importance of good teammates – even long after the last whistle has sounded.
"Sixty-five years ago, I entered McGill and started playing varsity water polo… and, without a doubt, this was one of the highlights of my years at McGill," said Steinberg. "Many of the people I played with are still my close friends. They have been supportive of me and I have been supportive of them – and that has been one of the most important things in my life.
"Keep in touch [with your teammates] because as you go through life there will be speed bumps… As hockey players you have pulled each other through the hard times and you will need that support down the road. I congratulate you all, it's a real joy to be with you tonight."