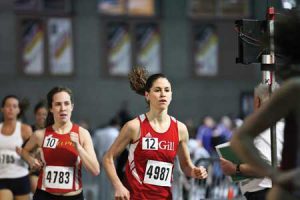 By Earl Zuckerman
Distance runner Sarah McCuaig from Waterloo, Ont., won four gold medals to lead McGill to a second-place finish at the Quebec university track and field championships, a two-day meet hosted by Université Laval, Feb. 26-27.
The 21-year-old physiology sophomore finished first in the 1000m (2:56.19) and 1500m (4:38.58), in addition to leading a pair of relays to victory – the 4×400 (4:03.54) and 4×800 (9:16.87).
"Sarah's performance was very strong," said Dennis Barrett, in his 26th season as head coach at McGill. "She ran with confidence, took control of her races and that's what you need to do to be a champion."
McCuaig ran the anchor leg of the winning 4×400 along with junior Charlène Puel from France, senior Catherine Drouin-Audet of Repentigny, and Aimee Castro, a sophomore from Hamilton, Ont.
Joining McCuaig on the victorious 4×800 team was Drouin-Audet, Castro and Geneviève Blanchard, a sophomore from Sherbrooke.
The only other individual gold medalist on the Martlets was Louisa Lobigs, a first-year exchange student from Australia, who won the 3000m in 10:07.65, almost 12 seconds faster than her nearest competitor.
One other performance of note was a silver-medal effort by Stephanie Harris, a Master's student in chemistry who hails from Calgary. Harris destroyed her own school record in the women's weight-throw with a toss of 14.65m, surpassing the standard of 14.44 she set in 2009.