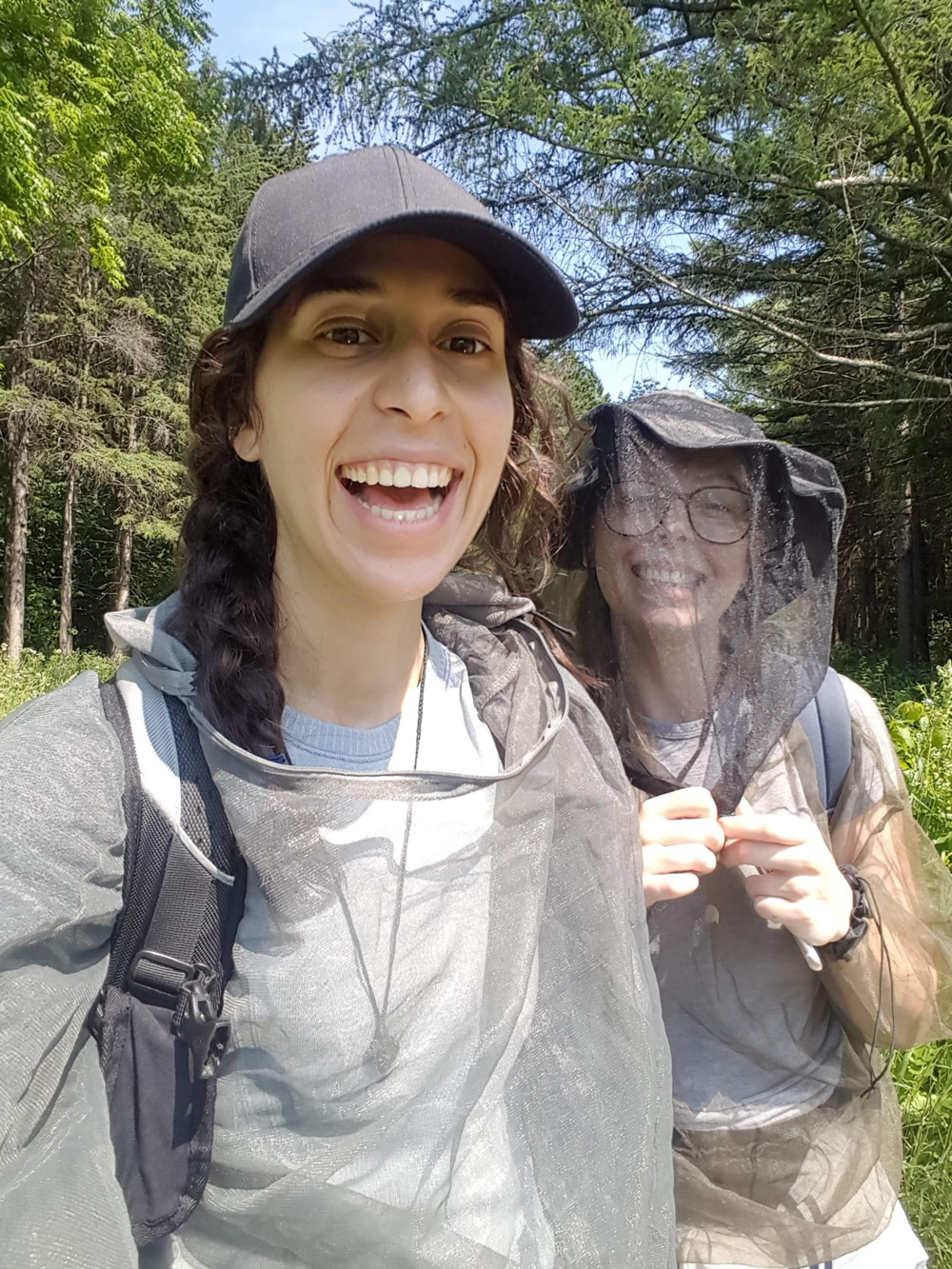 The Morgan Arboretum and the Gault Nature Reserve are two forested properties owned by McGill. In addition to the aesthetic beauty and recreational activities provided by these forests, they are also essential ecosystem services that have the capacity to capture atmospheric air pollution and mitigate some of the harmful effects caused from McGill's emissions.
This summer I spent my days going out to the West Island to do my fieldwork at the Morgan Arboretum. After that, I spent a couple of weeks lodging near the South Shore of Quebec at the Gault Nature Reserve on Mont Saint-Hilaire. Although both are mixed forests, the experience and the obstacles were very different for each.
First-ever fieldwork
Prior to going into my masters I wasn't prepared to do any field work. The initial plan was to use existing databases and maps to determine the different forest types and calculate the existing rate and the potential of McGill's properties to sequester carbon. This project is in line with McGill's sustainability plan to reach carbon neutrality by the year 2040.
But because, these databases were not up to date, this was my opportunity to get hands-on experience gathering data directly from the source. The problem was, at this point I had about a month to find a field assistant, organize all of my plot locations, teach myself about Quebec tree identification, and gather all the required supplies and materials. Luckily, with the help of my supervisor, Dr. Elena Bennett, and multiple lab mates, I was able to go out into the field at the end of May.
Pass the bug spray, please
My first field assistant (and I emphasize 'first' because I probably had about 10 different people come out with me throughout the summer), Melissa Donnelly, and I started at the Morgan Arboretum.
We set out to gather data from 34 different plots throughout the 250 hectare forest. Each plot measured 400 m2 and contained anywhere between 15 to 60 trees depending on the forest type (typically the older growth forests were less dense than the new plantations). We gathered the diameter at breast height (DBH) of every tree in the plot which can be applied to an equation that calculates for the biomass of the trees. In addition, we collected tree cores from the most dominant trees in the plot using an increment borer in order to count the tree rings that will help me to determine the age of the tree (dendrochronology).
Now for those who aren't familiar, mid-June is high season for mosquitoes and black flies. These fun little creatures are particularly dominant in wet forests, such as that of the Arboretum. This called for bug nets and rubber boots! Oh, and lots and lots of bug spray…
After about three weeks, we finally finished at the Arboretum and about three showers later, the smell of bug spray was pretty well gone from our skin.
Calling all potential field assistants
Now, Melissa couldn't stay to help me for the entire summer, and that's when I called for volunteers to help me out at Gault. I asked my friends, lab mates, friends of lab mates, and random people on the street, you name it! I want to point out how much I appreciate the help and enthusiasm I got from all the volunteers that helped me out especially since I was on such a crunch for time to finish all my fieldwork by the end of the summer.
Gault is about a 45-minute to one-hour drive from downtown Montreal. It is about four times the size of the Arboretum, measuring around 1,000 hectares of forested land. In addition, it is located on Mont Saint-Hilaire which measures a height of about 4,15m high.
I knew this forest would be a little more challenging, but I was confident that after working at the Arboretum, this wouldn't be too bad.
For the most part we got to walk along the trails and it was incredibly beautiful. There a large lake in the middle of the forest and I was amazed with the diversity of wildlife. Each day we saw deer and fawns, porcupine, chipmunks, many different bird species, fox, frogs and many other animals.
Some days we would spend about four hours in the forest and finish about four plots. However, on other days it would take us about seven hours to do only three plots.
The other side of the mountain
I lodged at the research chalets during this time in order to save on driving time to and maximize the time I could spend out in the forest. This was honestly one of my favourite parts of the experience as it felt like a camping trip. Nights would be spent by the fire roasting marshmallows and chatting with the other researchers working at Gault (after inputting all of my data of course).
At Gault, only one side of the mountain is actually accessible to the public. That side is filled with a wide range of trails and lookout points. The other side, however, is not accessible to the public since it's a protected area and can only be accessed by researchers.
About half of the 37 plots that I had laid out for Gault were located on this side of the mountain. There were a very minimal number of trails and no cell phone service, so navigating from plot to plot was extremely difficult. Most days we would run out of water about halfway through the plots (you would think that I would learn that I need to bring more water…) and our phone would die because of the constant use of the GPS. That being said, it was a strong test of perseverance, patience, and determination.
Each day of fieldwork was definitely a challenge, with the constant warding off of bugs; the daily 15 km uphill hikes; the shortage of water; the lack of cellphone service; and the multiple cuts and bruises. Nonetheless, it was an incredible experience that I would not have done any other way. I got to meet so many new people, basically go camping during the week with some of my closest friends, see some incredible wildlife, eat my lunch every day surrounded by the beautiful mountainous forest, learn about so many different tree types, and of course gathering data for this killer thesis project.