By Julia Asselstine
If you can't eat it, it's not food: Growing crops is one thing, but the real trick is getting those crops from field to market with minimal spoilage. Learn about bioresource engineering professor Vijaya Raghavan's decades-long effort to bring post-harvest innovations to Indian farms.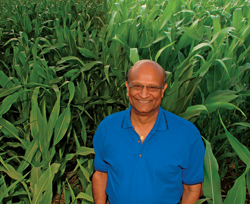 Forty years ago, Vijaya Raghavan came to Canada to pursue his studies in agricultural engineering. His homeland of India was already two years into its "Green Revolution" (1967-1978), its solution to preventing another food shortage like the one that killed four million people in eastern India in 1943. This period saw the expansion of farming areas, the introduction to the practice of double cropping (growing two or more crops in a single space during a single growing season) and an influx of seeds with improved genetics.
India's food production boomed. But Raghavan noticed a disturbing trend: As food production increased, so did the amount of food wasted during harvest. He decided to dedicate his research career to remedying this problem in his homeland, but quickly discovered that his work had great international significance. From the germination of an idea in his small McGill office, Raghavan grew a seed into a thriving vine of valuable knowledge that has reached developing countries crippled by poor-to-zero post-harvest knowledge. His work has taken him to fields not only in India, but in China, Malaysia, Thailand, Brazil, Costa Rica and several African nations. His impact has been enormous, as he witnessed firsthand during a recent trip back to India. As he travelled from one village to the next, he heard over and over again the success stories, new ideas and most of all the happiness in people's voices. They can now send their children to school with full bellies, and can see a future that is bright.
"You could feed one-third of India's poor if you captured losses each year," says Raghavan, a James McGill Professor in Bioresource Engineering in the Faculty of Agricultural and Environmental Sciences at the Macdonald Campus. Raghavan explains that despite a large volume of food production in India, 10 to 30 per cent of grains and 22 to 40 per cent of fruits and vegetables never make it to market, costing farms $15 billion (U.S.) annually. On top of this, the costs of running a farm, including external crop processing, have risen disproportionately to the increase in sale prices. The majority of Indian farms are small land holdings and their ability to make a profit is shrinking fastest of all.
"By enhancing the post-harvest operations, value goes up," says Raghavan. "One example is when farmers sort tomatoes into groups. Not all tomatoes are created equal, and if they all flood the market, price crashes result in unsold, rotten tomatoes. Top-quality tomatoes fetch the highest prices and low-quality tomatoes are sold for less elsewhere. Lesser-quality tomatoes can be saved for canning if the farm set up the proper facility, and the lowest-quality tomatoes yield antioxidant compounds if extraction equipment is available."
If the gains made by the Green Revolution were to be consolidated, the issue needed immediate attention. And he knew that he could invoke positive change by collaborating with his university colleagues in India. From 1985 to 1996, he worked closely with the staff of the University of Agricultural Sciences in Bangalore on the Bangalore-McGill Post Harvest Engineering project. Funded by the Canadian International Development Agency (CIDA), the project focused on developing and delivering post-harvest technologies to many farmers, mostly women, in southern and central Karnataka State in south India. Raghavan followed this success with a second, more ambitious CIDA-funded project called the Consolidation of Food Security in South India. Between 2002 and 2007, he again collaborated with researchers at the University of Agricultural Sciences, Bangalore, as well as those at the University of Agricultural Sciences, Dharwad, and Tamil Nadu Agricultural University at Coimbatore. Their goal was to provide training as well as infrastructure, to better support sustainable operations. The strengths of the institutions were harnessed to develop food-processing solutions—such as a post-harvest technology research and training centre in Coimbatore, and several krishi vignana kendras (KVKs, or knowledge centres)—that could be transferred to the beneficiaries as income-generating activities. In this way livelihoods could be improved and poverty could be reduced.
Within the boundaries of this project people received their own land, buildings and electricity connections. Training, machinery and the link with universities for research was provided. On the farm, staff learned farm management and applications for technology. They became more market savvy and they set up machinery for threshing, pasteurizing, canning and other operations. "By installing a threshing machine to clean grain, the quality goes up immediately and the machine pays for itself," says Raghavan. "You need to make this sustainable at the village level. It becomes unsustainable if you just talk to the middle man and not the first-line workers."
"The Consolidation of Food Security project in South India has provided enormous sustained benefits for the farming community and for the post-harvest processing sector of the whole country," says Nachimuthu Varadharaju, Professor and Head, Post Harvest Technology Centre, Tamil Nadu Agricultural University. "Raghavan's work has already made an impact for tens of thousands of people here. In the long run it will have a positive influence on millions more."
Raghavan returned to the southern states of India this past summer and witnessed firsthand the many successes. "The farmers are now entrepreneurs themselves. They are creating new things, like more markets, and they explain to me how the activities have enhanced their quality of life," he says. "It has become a sustainable agriculture— my mission accomplished."
There is still, he acknowledges, lots of work to be done. Currently, graduate students in his McGill lab, for example, are collaborating with peers in India's State Agricultural Universities on everything from drying cranberries in microwave ovens for long-term storage to processing nutritious millet so it can compete with the rice market. The Indian government is now in the process of establishing 350 post-harvest centres, which will create jobs for millions. Subodh Kant Sahay, India's Minister of State in the Ministry of Food Processing Industries, declared this year that he wants to more than triple India's food processing industry over the next five years, and double its share of global trade to three per cent. "After the Green Revolution, we are now ushering in the Evergreen Revolution in the country. Processing is an evergreen activity," says Sahay. "It's the key to the agricultural sector."
Vijaya Raghavan's research projects receive funding from CIDA, Canada's Natural Sciences and Engineering Research Council and the Fonds québécois de la recherche sur la nature et les technologies.