The Ming Qing Women's Writings (MQWW) project is an online digital archive of women's writing in China during the Ming and Qing dynasties, from 1368–1911. These collections of writings provide a trove of information about literature, history, politics and gender in premodern China.
Their digital versions also provide access to primary source material that is physically available only in rare book libraries such as the Harvard-Yenching Library and the Peking University Library.
Gan Lirou is seven years old (七歲) and the daughter of a scholar-official in 18th century China. Her first poem, entitled"On the Round Moon" (咏圓月), brims with childish curiosity about the phases of the moon.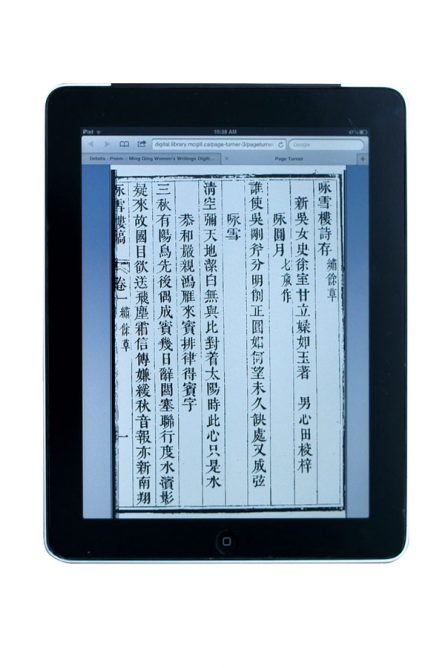 Who sent Wu Gang's axe
誰使吳剛斧
Clearly to chop it exactly round?
分明削正圓
How come not long after it's been full
如何望未久
Again a crescent forms where it has waned?
缺處又成弦
Gan would go on to write hundreds of poems about the various phases of her life: as a girl, a wife and daughter-in-law, a mother and young widow, and as an elderly woman. The entire opus of her work can be found online in the MQWW archives.
The MQWW project is the most popular digital collection in the McGill libraries, used most frequently by scholars in: China, USA, Taiwan, Canada and Hong Kong.
Chinese literature professor GRACE FONG leads the MQWW project, which recently obtained a grant from the Luce Foundation to collaborate with the National Library of China to digitize 228 additional collections of women's writings from the Qing dynasty. Her recent publications include Herself an Author: Gender, Agency, and Writing in Late Imperial China, featuring the writings and biography of Gan Lirou.
Grace Fong's research is supported by the Social Sciences and Humanities Research Council of Canada and by the Henry Luce Foundation.