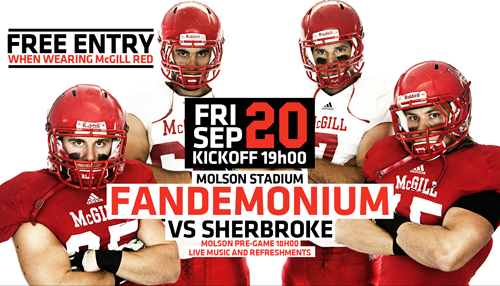 By Neale McDevitt
Riding a two-game win streak, the 2-1 Redmen will square off against the 0-3 Université de Sherbrooke Vert & Or on tonight at Molson Stadium.
The night promises to be a colourful one as all fans, young or old, wearing red in support of the home team will get in for free. Organizers of Fandamonium are anticipating the largest McGill crowd in decades and a win over Sherbrooke would put the Redmen in the driver's seat for a third-place finish in the six-team Quebec conference with five games remaining before playoffs.
The Redmen are coming off a 48-17 drubbing of Mt. Allison last weekend while Sherbrooke lost a 22-21 heartbreaker to Bishop's.
The game kicks off at 7 p.m. but the pre-game party featuring live music, a BBQ and a refreshment tent opens at 6 p.m.