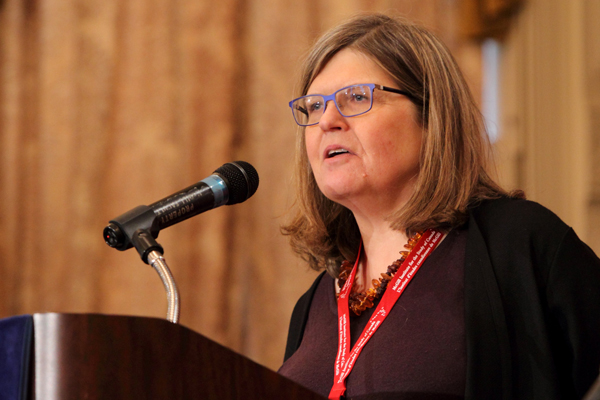 By Elisabeth Faure
After a whirlwind six months, Professor Suzanne Morton is ending her tenure as Acting Director at the McGill Institute for the Study of Canada (MISC) to head back to the Department of History and Classical Studies. During her tenure, she oversaw major events like the annual MISC conference (this year on the topic of "Petrocultures") and the 2014 Mallory Lecture by federal Green party Leader Elizabeth May.
As her stint at the MISC winds down, the Reporter caught up with Professor Morton to get her thoughts on what's next for the Institute.
One of the major events you've been working on during your time as Acting Director at the MISC is the 20th anniversary celebrations. What can you tell us about the special event that will be held on September 23? How did you decide who to invite?
We are very excited about celebrating our 20th anniversary with Canada Remix. On the afternoon of Tuesday 23 September we have invited eleven outstanding individuals who we wanted to hear talk about their vision for the future of Canada and how Canada can best address issues around civil society and public engagement in our democracy. We sought to involve people from a broad range of backgrounds and so we have invited a range of politicians, artists, journalists and business people. It's a mix of people who typically wouldn't be in conversation with each other so it will be interesting to hear the important discussion that takes place.
The MISC is also in the midst of a major fundraising campaign to mark its 20th anniversary. How much money do you hope to raise? What will the money be used for?
The CRB Public Education Fund is meant to honour the vision and generosity of Mr. Charles Bronfman in creating the MISC twenty years ago (along with co-founder Alex K. Paterson), and provide stable and permanent funding for outreach events. Each year we invite a mixture of scholars, artists and public figures to campus for lectures, panels and large thematic conferences aimed at the university community and the general public. We want to keep these events accessible and we want to be in a position where we can invite whoever has something important to say without concerns about money. We are optimistic and we hope to raise $2 million.
What do you think are some of the MISC's greatest accomplishment over the last two decades? 
The MISC has done an amazing job at building bridges between the University and the broader community. We have been fortunate to have consistently brought together scholars, public policy people, cultural producers, politicians and the general public in important and wide-ranging dialogues. The explicit public education mandate of the Institute makes MISC different from most areas of the university as it has to balance bringing together students, faculty and visiting researchers interested in Canada with the wider community.
After the 20th anniversary, what's next for the MISC?
We are very excited to be the home of the new Indigenous Studies minor in the Faculty of Arts. Allan Downey, a recent graduate of Wilfrid Laurier University and member of the Nak'azdli First Nation, will be joining us as Academic Associate in Indigenous Studies. He will offer the first section of "Introduction to Indigenous Studies" (INDG200) in the Winter 2015. It's a course I'd love to take.
To pre-register for Canada Remix, go here.