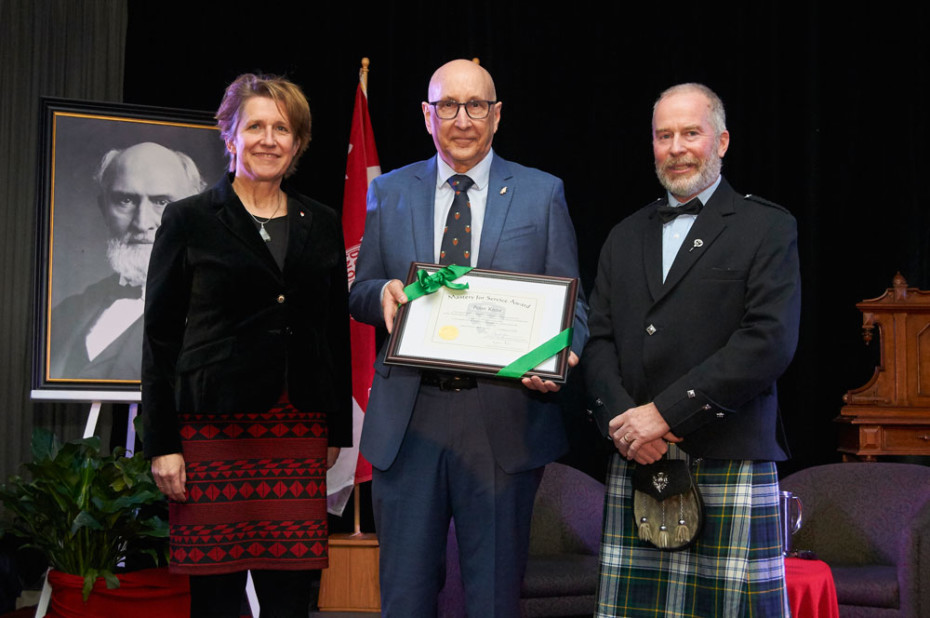 On February 6, members of Macdonald campus came together to take part in the annual Founder's Day festivities. Chris Buddle, who taught at Mac for many years before moving to the administrative side downtown, summed up the tone for the day.
"Although I spend a lot of my time downtown now, a huge hunk of my heart is here. I love Mac campus and try to visit it regularly," said the Associate Provost (Teaching and Academic Programs).
"A lot of things have changed [since Macdonald College was founded in 1907] and Sir William would be amazed at what has happened… and there are obstacles facing us going forward," continued Buddle. "But at the same time, there are immense opportunities [for] optimism. One of the reasons why is just one simple word: community."
That sense of community was on full display right from the start, with alumnus Bruce Bolton (B.Sc.'72), Executive Director of the Macdonald Stewart Foundation, piping in the platform party to the strain of When the Saints Go Marching In.
Another McGill grad, Jennifer Baichwal (BA.'90, MA '96), a Canadian documentary filmmaker, writer and producer, was the guest of honour, discussing her award-winning documentary Anthropocene: The Human Epoch.
An appreciation of Sir William Christopher Macdonald
Following opening remarks by master of ceremonies, Murray Humphries, McGill Northern Research Chair; Anja Geitmann, Dean of the Faculty of Agricultural and Environmental Sciences, gave a history lesson of Sir William Christopher Macdonald, one of the prime benefactors of McGill and, of course, Macdonald College.
"Sir William Macdonald was a great industrialist who used his money well by putting it into education. The school into which he put the most money was McGill," she said, noting that his generosity supported everything from the Faculties of Law and Engineering, to the School of Architecture and a recreational centre (now the McCord Museum) for McGill's Student Union.
"So how did he come to set up a college here, in Sainte-Anne-de-Bellevue, 35 kilometres from the downtown campus? That is an endeavour that doesn't just happen overnight," said Geitmann.
Sowing the seeds of Macdonald College
Macdonald College opened in 1907, but the seed was planted 10 years earlier, when Sir William Macdonald met James Wilson Robertson, a cheese manufacturer, educator and civil servant.
Although different in character, the two shared an interest in educational reform, especially in rural areas. To spur children's interest in agriculture, Robertson and Sir William partnered in an annual agricultural competition to reward children who grew the highest-quality seed grain.
This alliance proved fruitful, as the pair established a program of manual training workshops and consolidated schools "where single schoolhouses that had only a single teacher were consolidated into schools with several teachers to be more efficient and better at providing manual training," said Geitmann. "And Macdonald College was one of them."
Purchasing farmland on the western tip of Montreal, Sir William realized his dream and established the College in 1907. The three disciplines originally taught at Macdonald College were agriculture, household sciences and teaching.
"While much has changed over the past hundred odd years, that focus on education, research, innovation, outreach and service is still here," said Geitmann.
Buddle on the hot seat
Following the tried-and-true academic model, Geitmann's lesson was followed by a pop quiz, as an unsuspecting Buddle was grilled by MC-turned-Quiz-Master Humphries. The quiz focused upon Sir William, with a healthy dose of Mac campus trivia.
To his credit, Buddle got most of the questions right – although he faltered slightly in the spelling portion of the quiz, adding an extra T to the family name of former Dean Chandra Madramootoo and looking like a deer in the headlights when asked to spell the name of one of Mac's most popular spots, the Ceilidh Pub.
"Well, it starts with a C," said Buddle, hesitating. "And… there's an E, an I, an L, a D, an H, and something else."
Humphries thought he had Buddle on the ropes when he asked the distance from Mac to the downtown campus. But Buddle proved equal to the task.
"It's definitely further from downtown to here then it is from here to downtown," Buddle said, eliciting laughter from every driver who deals with the geographic anomaly on a regular basis. "Here to downtown is only 35 kilometres but it must be 250 miles in the other direction."
"Depends on the flow of the river and prevailing winds," said Humphries.
Peter Knox honoured
Next came the first award of the day, as Peter Knox was named the recipient of the Mastery from Service Award.
Mac's most prestigious honour, the award is presented every five years to one individual who has provided "outstanding contributions to the Macdonald community as demonstrated by a commitment and dedication to the Campus which has added immeasurably to the quality of the institution, its programs and student life."
Knox, a class of 1973 graduate, retired in 2019 from his position as Manager, Facilities Management and Ancillary Services, after a career at Mac that spanned nearly 45 years.
"Peter's first connection with Mac was as a student back in those ancient times called the late 1960s and early 70s – that's pre-cell phone, pre-internet, pre-Facebook, Twitter, Instagram, Snap Chat, X-Box," said presenter Paul Meldrum, Macdonald Farm Manager. "And after graduation – well, he never left!"
Immediately taking a job as a lab supervisor at McGill's Dairy Herd Analysis Service, Knox became Supervisor of Campus Services three years later. "I believe it is at this point that the love affair with Macdonald really started to heat up," said Meldrum. "Making this place function efficiently and making it look beautiful became Peter's raison d'être."
Tireless in his dedication to Macdonald campus, Knox oversaw everything from landscaping, snow clearing operations and equipment installation; to bringing composting and recycling to Mac; to ensuring the smooth operation of special events, from Founder's Day celebrations to Convocation.
"Everywhere you look on this campus, you can find Peter's stamp," said Meldrum. "He treated Macdonald like it was his own – he cared about this place, and the people who work and study here – still does."
Gold Key recipients
Next, it was time to honour five Mac campus students with Gold Key Awards. The Award is given out by the Macdonald Branch of the McGill Alumni Association to students in recognition of their outstanding contribution to extracurricular activities at the Macdonald campus.
Students nominated for the Award must show leadership and excellence in the promotion and development of extracurricular activities, extent of involvement, effectiveness of involvement, leadership shown and ability to deal with peers and continuity of programs.
"You all know that a McGill education is not just about lectures and labs, assignments and exams… It also includes all of the other activities on campus, including Frosh Week, clubs, athletics, special events, among other things," said Jim Fyles, Tomlinson Chair in Forest Ecology and Director, Morgan Arboretum and Molson Nature Reserve. "These extracurriculars bring us together. They create feelings of belonging and they build us into a community. They ultimately enhance our educational experience and, in fact, they enhance our grades as research demonstrates."
"But we seldom ask ourselves how these activities come about. We seldom recognize those among us who take on leadership in small and large ways to dream up and organize these events that help so much to create a vibrant life on campus," continued Fyles. "The Gold Key Awards recognize students among us who have stepped up and shown excellent leadership in campus-wide extracurricular activities and to thank them for living up to the Macdonald motto of 'Mastery for Service.'"
This year's Golden Key recipients include:
Sophie Lalonde-Bester, U2 Dietetics
President of the McGill Dietetics and Human Nutrition Undergraduate Society (DHNUS), Lalonde-Bester was touted for her role in Mac being designated a Fair Trade Campus (https://reporter.mcgill.ca/macdonald-campus-receives-fair-trade-campus-designation/, among other things.
"But more than the events she organized, all of her nomination letters spoke of Sophie's outstanding leadership skills," said Fyles. "They spoke of her inspiring leadership style; her mentoring of others; her skill at building teams and supporting them throughout their work; her sensitivity to the demands shouldered by others; and her influence modeling and how to be fully engaged in leadership while maintaining excellent grades. She's a great role model for us all."
Stéphanie Bélanger-Naud, FMT'14, BSc (AgEnvSc)'17, MSc candidate (Animal Science)
A long-time member of the Mac family, Bélanger-Naud has been a key organizer of dairy cattle showing and judging competitions, and was praised for mentoring many students who had never previously worked with cattle.
"Most of her notable contributions have been through the Mac Woodsmen and Woodswomen team, first as a member and later as a team captain leading the team to top honors in national championships," said Fyles. "Perhaps most important, however, have been her roles in mentoring and coaching over the years that have helped the woodswomen and woodsmen continue as a vital part of our campus life."
Megan Hardi, U2 Food Science/Nutritional Sciences
The DHNUS activity coordinator, Hardi also represents Macdonald campus students on downtown committees of the Wellness Hub.
"In contrast to our last recipient [Stéphanie Bélanger-Naud], Megan Hardi is being recognized for her leadership when she is only in U1," said Fyles.
Luke Currin, BSc(AgEnvSc)'14, MSc'17, PhD candidate (Animal Science)
Currin is also a familiar face at Mac, having completed his Honours BSc and a Master's degree there, and now pursuing a PhD in animal science.
"Over the years Luke has led many activities from many roles. Most recently, as MCGSS vice president last year and environmental adviser this year," said Fyles. "Luke is also involved in the TA union of Association of Graduate Students Employed at McGill… and in his spare time he volunteers at the McGill Bird Observatory."
Alessi Gadoua, U3 Dietetics
The president of the McGill Global Food Security Club and a member of DHNUS, Gadoua was one of the key organizers of Mac's recent Eating Disorders Awareness Week.
"She was also a main force behind the complicated and very successful public launch of the Fair Trade Campus Designation (https://reporter.mcgill.ca/macdonald-campus-receives-fair-trade-campus-designation/ last fall in which she coordinated liaison with fair trade Canada, the town of Saint-Anne-de-Bellevue and McGill Communications," said Fyles.