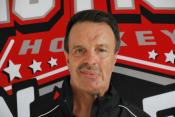 Jim Webster of Pointe Claire, Que., has been appointed interim head coach of the McGill men's hockey team. A multilingual native of Montreal, he brings three decades of coaching experience, including pro hockey stops in Switzerland, Italy, Austria and Norway, plus stints at the junior college and university levels.
Webster, 61, replaces Martin Raymond, who recently stepped down after 14 seasons, to accept an offer from the Montreal Canadiens to serve as an assistant coach with their American Hockey League affiliate in Hamilton, Ont.
"We're extremely pleased to find someone with the extensive hockey background that Jim brings," said Drew Love, executive director of athletics and recreation at McGill. "I'm confident that our student-athletes and the Friends of McGill Hockey alumni support group will be very satisfied with this decision."
Webster graduated from McGill in 1973 with a B.Sc. in physical education, which was preceded by a commerce degree from Sir George Williams University in 1970. He also earned a master's in physical education from Boston University in 1975.
While at McGill, Webster captained the hockey Redmen in 1972-73, winning the Quebec university league scoring title that year. He also earned team MVP honours and received the University's Scarlet Key Award for leadership.
"I'm excited about the challenge," said Webster, a Level IV certified coach who also speaks French, Italian and German. "The calibre of university hockey is much-improved from when I played. Martin has done a tremendous job revitalizing the McGill program and the core of the team is expected back, including the assistant coaches, so I don't plan on any major changes. I like an up-tempo style of team with an aggressive forecheck and I believe that is precisely what we have now."
Webster played pro for two seasons with the New York Islanders Central Hockey League affiliate in Fort Worth (1973-75), then played for Innsbrucker EV in Austria (1976-77), before eventually beginning a long coaching career in 1978.
Webster was a player-coach with HC Rosenborg in Norway (1978-80), played briefly in the IHL with Milwaukee and in the AHL with the Nova Scotia Voyageurs, then moved onto Switzerland (HC Langnau, 1980-81 and HC Zurich, 1981-82) and Italy (HC Val Gardena, 1982-83). He returned to Canada the following season to coach and teach at Mount Royal College in Calgary, where stayed five years and won a national championship in 1988.
Named bench boss at the University of Ottawa the next season, Webster was then wooed back to Italy, where he guided HC Milano (1989-91), HC Varese (1991-93) and Val Gardena (1993-94).
Since then, he has served as the technical director and resident professional for the West Island Minor Hockey Association, was head of instruction at National Training Rinks in Kirkland, Que., and founded the Sport Etudes program for hockey at John Rennie high school in Pointe Claire, Que.
The Redmen are scheduled to open training camp on Sept. 6 and their first preseason contest is set for Sept. 19 in Trenton, Ont., against Royal Military College. Other non-conference games are scheduled against the defending national champions from UNB (Sept. 25-26 in Fredericton), Ottawa (Oct. 2 at McConnell Arena) and at UQTR (Oct. 7). The Redmen are slated to host their regular season opener against Concordia, Oct. 16, as part of the Homecoming Week festivities at McGill.
At season's end, a decision will be made concerning the interim status of the head coaching position.