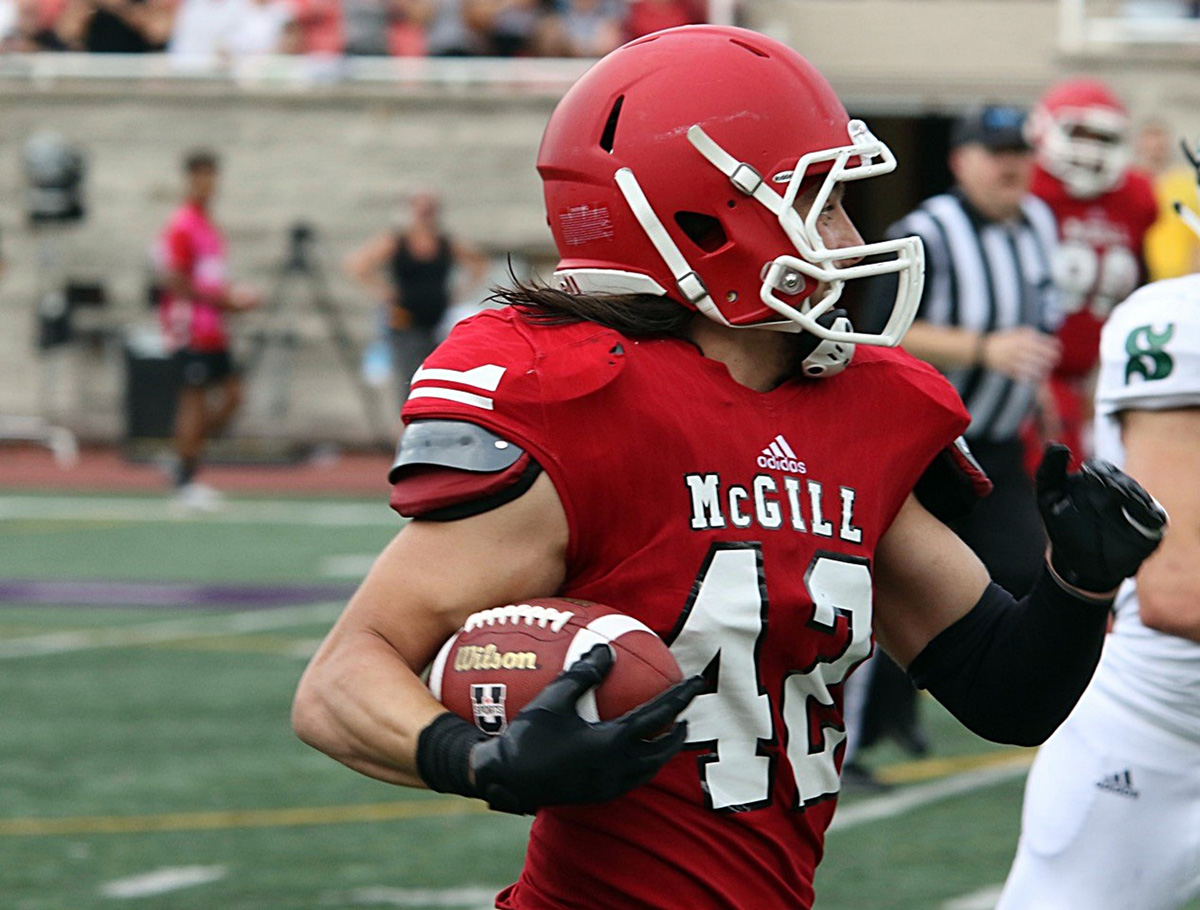 Benjamin Carre had two interceptions – one returned for touchdown – as the McGill Redmen surprised Sherbrooke 19-8 in RSEQ university football at Percival Molson Stadium, Saturday.
It was McGill's first home victory over the Vert & Or in nine years, snapping a six-game skid since a 29-11 victory on Sept. 11, 2009. The Redmen, who did win on Sherbrooke turf last year, improved to 8-16 lifetime versus the Vert & Or, including a 5-9 mark at home.
Carre, a 22-year-old civil engineering junior from Trois-Rivieres, Que., also contributed a quarterback sack and a knockdown to spearhead a voracious McGill defence that had a 4-2 edge in QB sacks, while limiting Sherbrooke to just 166 yards net yards, 12 first downs and a pair of field-goals.
The 5-foot-11, 176-pound inside halfback halted a nine-play Sherbrooke drive with his first pick, in the endzone, when the game was tied at 3-3 and 2:18 remaining in the first half. He then registered a "pick-six" just 123 seconds into the third quarter, stepping in front of freshman Joe Hudon's pass attempt and returning it 71 yards to put the Redmen ahead 17-5. It was McGill's first interception returned for a TD since Carre accomplished the same feat, also against Sherbrooke, on Oct. 21, 2017, with a 30-yard pick in a 35-27 loss at Molson Stadium.
The Vert & Or, who dropped their season opener 14-1 to Laval last week, led 3-0 after the opening quarter but McGill pulled ahead 10-5 at halftime and held a 17-8 advantage after three.
"It's a good win for us and we have to build on that. There's a fire that's been lit on our team and we've just got to keep it burning," said Ronald Hilaire, in his fifth season as head coach and defensive coordinator at McGill. "We're happy about how we played in certain facets of the game to get us this win. We've just got to amplify that and make sure that we play a cleaner game going forward. We had too much indiscipline with penalties and can't play like that… It's not acceptable and were going to have to correct that.
The game featured a whopping 36 penalties for 317 yards of real estate. McGill was flagged 26 times for 187 yards.
"We played an aggressive game, despite missing some key players who were out with injuries," added Hilaire. "But I truly feel that we have 20 to 22 players who can step in and give a high performance like they did today. After years of having a very young lineup, we're finally a team with some maturity and playing at a higher level."
Leading the McGill offence was Daniel Adesegun, a management sophomore from Calgary, who registered 97 all-purpose yards and a touchdown. The 5-foot-9, 183-pound running back rushed for a game-high 74 yards on 15 carries and added 23 yards on three receptions, including a nine-yard TD pass-and-run play from quarterback Dimitrios Sinodinos that gave McGill a 10-5 lead with 26 seconds remaining before halftime.
It was the first career start for Sinodinos, a 21-year-old sophomore from Laval, Que., who completed 13 of 22 attempts for 166 yards, one TD and two picks. Rounding out the scoring for McGill was five points from kicker Findlay Brown and a safety conceded in the endzone. Brown, a 5-foot-11 management junior from Winnipeg, Man., had a busy afternoon, matching a career-longest 40-yard field-goal. He also converted both of McGill's touchdowns, averaged 55.7 yards on three kickoffs and had 11 punts for 34.6-yard average.
Sherbrooke, which scratched starting quarterback Xavier Owens hours before kickoff, went with freshman Conor Sinclair at the helm but he was sacked on only the third play from scrimmage by McGill defensive lineman Xavier Bilodeau. Sinclair lasted just one quarter, completing three of four attempts for 19 yards. Hudon, their only other quarterback listed on the depth chart, took over and was 10-for-26 for 79 yards and two picks.
The Vert & Or offence came primarily from kicker Pierre-Antoine D'astous, who connected on field-goals of 32 and 13 yards.
Sherbrooke (0-2) will play at Concordia (0-1) on Sept. 8. The Stingers opened their season with a 47-9 setback at Laval (2-0) on Saturday. McGill (1-1) now heads into a bye-week and will host the Stingers in the 51st annual Shaughnessy Cup game on Sept. 15 at Molson Stadium.