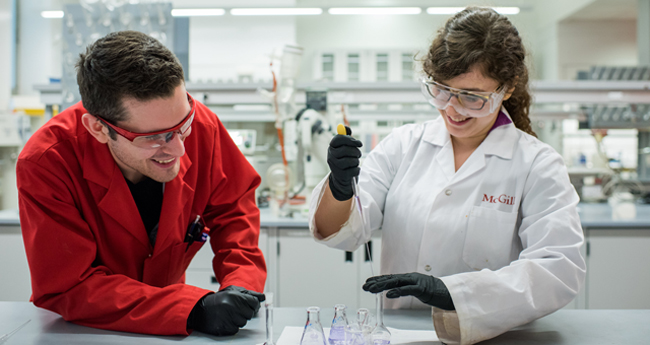 OTTAWA – The federal government announced a major investment in research in Tuesday's 2018 budget.
"Budget 2018 represents the single largest investment in investigator-led fundamental research in Canadian history," Finance Minister Bill Morneau told the House of Commons in his budget address. "And more than that, we'll make sure that the new money for research supports the next generation of researchers, so that we can build a science community that looks more like Canada – more diverse, and with a greater number of women."
University leaders, researchers and students applauded the announcement, which includes nearly $1.7 billion in new money over five years for Canada's research granting councils, along with $763 million for the Canada Foundation for Innovation.
"I am delighted to see increased federal support for fundamental research," said McGill Principal and Vice-Chancellor Suzanne Fortier. "This investment will open up opportunities for our country's talented researchers to explore new areas of knowledge and train the next generations of researchers."
"I would like to thank the Government of Canada for this investment in the future and for recognizing the power of research."
Currently, the tri-councils – the Natural Sciences and Engineering Research Council (NSERC), the Canadian Institutes of Health Research (CIHR) and the Social Sciences and Humanities Research Council (SSHRC) – spend about $3 billion a year. According to budget documents, the government will invest $925 million more over five years, and $235 million a year thereafter, in the tri-councils, largely for investigator-led research, broken down as follows:
NSERC: $354.7 million over five years + $90.1 million per year thereafter
CIHR: $354.7 million over five years + $90.1 million per year thereafter
SSHRC: $215.5 million over five years + $54.8 million per year thereafter
In addition, the budget proposes to create a new tri-council fund "to support research that is international, interdisciplinary, fast-breaking and higher-risk." SSHRC will administer this new fund, pegged at $275 million over five years, and then $65 million a year thereafter. The Canada Research Chairs program will see an investment of $210 million over five years (with $50 million a year thereafter), largely targeted to support early career researchers and women.
Martha Crago, McGill's Vice-Principal (Research and Innovation) was pleased to see the government's response to the 2017 report by the expert panel on Canada's Fundamental Science Review (FSR), headed by David Naylor. The Naylor report called for significant increases in federal spending on research in Canada.
"The Government of Canada has charted a multi-year roadmap for strengthening the foundations of fundamental research, as the Naylor report recommended," Crago said.
"The investments in research made in the 2018 budget will support a diverse group of emerging researchers to move forward in their careers and to unlock new knowledge for the benefit of Canada and the world. A future of sustained Canadian research excellence shines more brightly today than it has in many years."
The budget plan acknowledges that the government heard "the strong and united message from Canada's research community on the importance of investing in the future of Canadian research."
"Across the country, the research community – students, postdocs, professors and philanthropic foundations – led a nation-wide initiative that championed the Naylor report," Crago said.
Prof. Fortier was pleased to see the emphasis on both diversity and early-career researchers. "Support for young researchers is vital to creating a dynamic environment that promotes new ideas, different perspectives and different ways of thinking," she said. "This investment is particularly timely as Canada is increasingly attracting a more diverse pool of talent to the research enterprise."
The government will also increase spending by $231.3 million over five years on facilities and administrative costs (indirect costs) for research.
New, stable funding for the CFI was especially welcomed, providing the Foundation with a predictable budget. The government also pledged $572.5 million to implement a Digital Research Infrastructure Initiative to improve access to advanced computing and big data resources.
Other initiatives included a new direction for the National Research Council, with an eye to encouraging a level of collaborations with researchers from universities and the private sector, and across government departments, as well as money to upgrade federal laboratories.
"We know that researchers can make a big, long-term impact on our economy," Morneau told a news conference prior to his budget presentation Tuesday afternoon. "When you're talking about science, you're talking about the very long term."
In the clip below, Martha Crago, McGill's Vice-Principal (Research and Innovation), comments on the 2018 budget.